Hybrid Logistics Project Learning Centers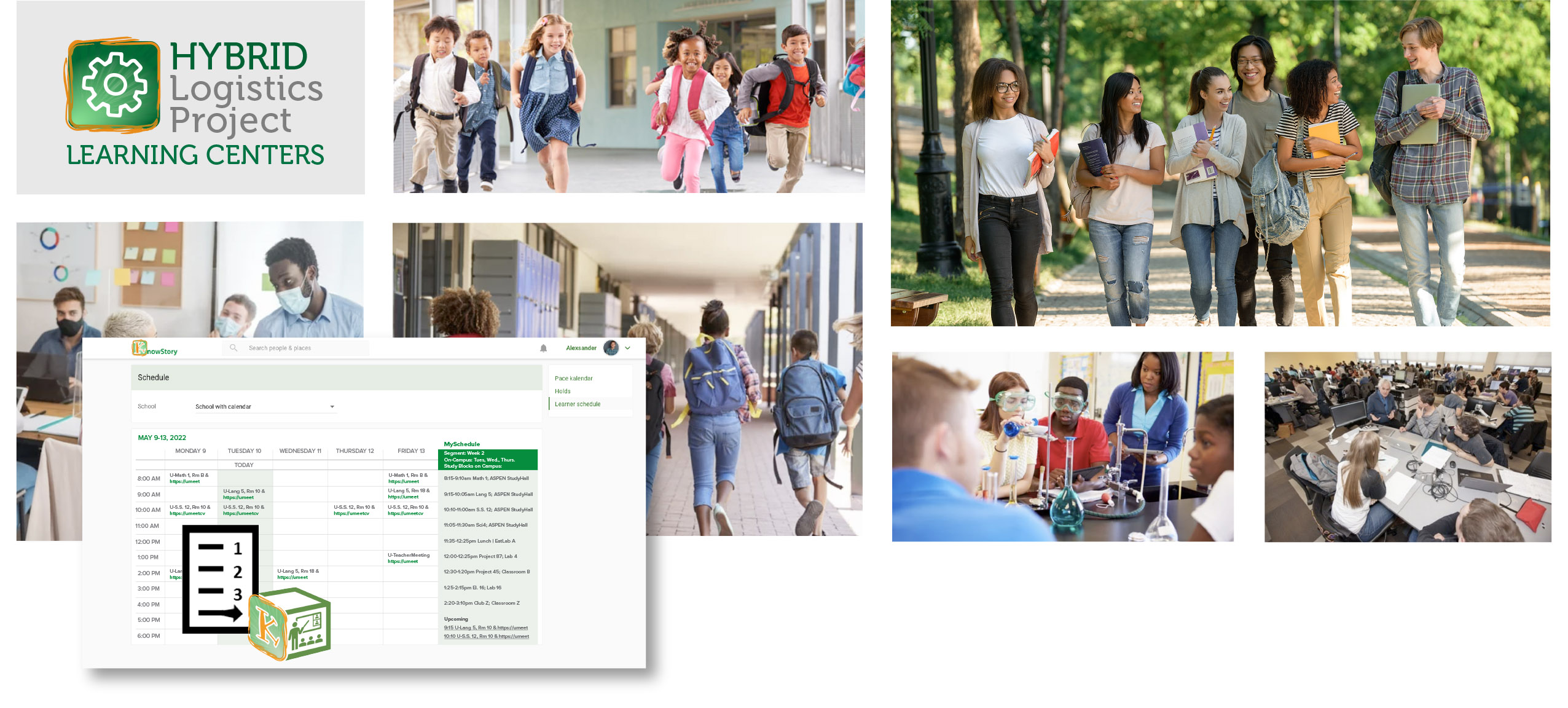 Creation of equity and relevancy through school or district transformation to flexible personalized paths.
Work encompassed in the scope of the Hybrid Logistics Project is based on findings published in the Learning Counsel's Becoming Expo Learning Special Report, Digital Learning Reference Guide, input from educators nationwide, and other relevant national research.
Because of the critically transformative nature of this research, the Learning Counsel is inviting powerful educational systems that exemplify learner-centered, future-focused, effective practices to join a national cohort of innovative districts to implement a hybrid logistics model for experiential and personalized learning, to become Hybrid Logistics Learning Centers.
These Learning Centers work in cohorts of school districts, are engaged in a multi-year transformation, and are committed to building personalized learning structures and systems that leverage a hybrid logistics interchange to amplify the human effect on teaching and learning.
Participating systems will be along a continuum of development toward experiential and personalized learning, which will be made more effective through a hybrid logistics interchange and accelerated with support of The Learning Counsel and its partners.
The difference is strategy over tactics.
Instead of piecemeal tactics addressing parts of learning operations or administration on top of the traditional by-grade student groups and individual classrooms, a Hybrid Logistics Learning Center transitions to new structures and implements a hybrid logistics model. This requires an approach that encompasses every part of the organization in cohesive strategy with aligned sub-parts for programmatic tactics.
Becoming a Hybrid Logistics Learning Center
Just as all learners are individual, every Hybrid Logistics Learning Center is unique, based on its needs, culture and community. While each will design its own path forward to a personalized learning environment, there are several consistencies that each will experience that ensure that conditions are optimized for innovation and sustainable growth. Parallel systems between HL cohort districts and HL sites within districts help maximize learning and build cohesion across and within participating cohort systems.
What's in the box?
The Hybrid Logistics Project is built around each Learning Center's readiness and where they are along the continuum of their own transformation and includes technical and adaptive supports for implementation. This means that each cohort member's plan forward will be personalized to their needs, while maintaining cohesion with the overall direction of the cohort. Parallel structures for learning across the cohort and within cohort school districts ensure that implementation is cohesive throughout the project. Participating school systems can expect to be supported in six critical areas:
Learner-Centric Vision for the Future
Research-driven Foundations for Transformational Leadership
Process and Technology Model Architecture
Structures for Learning, Professional Development
Practical Implementation Scaling
Community Alignment
Cohort members, identified as Hybrid Logistics (HL) Learning Centers, engage in a three-year developmental progression that meets them where they are and moves them forward to a sustainable structure designed for experiential and personalized learning. National HL Learning Centers will be highlighted through Learning Counsel regional and national events and will be charged with sharing their learning along the way with others following similar pathways to personalization. HL Learning Centers will be the subject of case studies designed to guide schools, districts and regions in realizing the vision for hybrid logistics articulated in the Learning Counsel's Digital Resource Guide.
BENEFITS
| | | |
| --- | --- | --- |
| Readiness and System Audit Audits and reviews of technology infrastructure, pedagogical readiness and alignment to strategy provide the baseline for the work | Networking and Collaboration Collaboration with a national cohort of school districts working toward similar goals | Professional Learning A mix of on-site and virtual learning experiences set the floor for practice development and growth. Parallel systems of learning and embedded coaching ensure continuity within the system and between districts |
| Implementation Support Executive-level consulting and strategic planning support ensure that a path is set for success, and the throughline from boardroom to classroom is clear. | National Conference Attendance at the Learning Counsel's National Conference provides structured face-to-face collaboration time and shared learning. Cohort members have opportunities to present learning. | Share the Work Semi-annual regional cohort meetings, individual case studies and special reports document process, tell each district's story of transformation and spread the learning. |
| Hybrid Logistics Interchange An enterprise license for the Knowstory hybrid logistics interchange helps facilitate a structure designed to address time, place, pace and space and personalize learning experiences. | Assessment and Progress Monitoring Common rubrics and progress monitoring tools help facilitate continuity across the Project and maximize collaboration within the cohort. | Resources Exclusive access to technical and adaptive change implementation resources, in addition to senior-level consultants from Learning Counsel's Innovation Services provide needed support when they're needed. |
Who's just right to be a Learning Center for the Hybrid Logistics Project? Inside-the-Box thinkers.
We'd say that we're looking for out-of-the-box thinkers to join us in this national movement, but the truth is we want you to think inside the box. We know that school systems operate within a box filled with all the things that create opportunity and present limitations. These could be compliances to get funding, state mandates, and staffing shortages or the reverse: creativity in redefining tasks, daringly stretching mandates, and inspirational systems efficiencies. We get it. What separates successful, innovative systems from those who fail to evolve and meet the changing needs of a local and global community is their ability to continually adapt. Redefining not only what's in their box but perhaps the dimensionality of the box itself. Those are the innovators and creators that will inspire the shift in education we all know our learners need and deserve. Those are the education systems we're looking for.
INNOVATION SEQUENCE
YEAR ONE — CATALYZING
Building the vision and setting the stage for a shift to experiential personalized learning and catalyzing the change system-wide.
YEAR TWO — BUILDING
Implementing an experiential personalized learning structure, hybrid logistics model and supporting instructional staff to amplify learning.
YEAR THREE – SUSTAINING
Refining systems and structures, expanding implementation of experiential personalized learning structures and integration of the hybrid logistics interchange.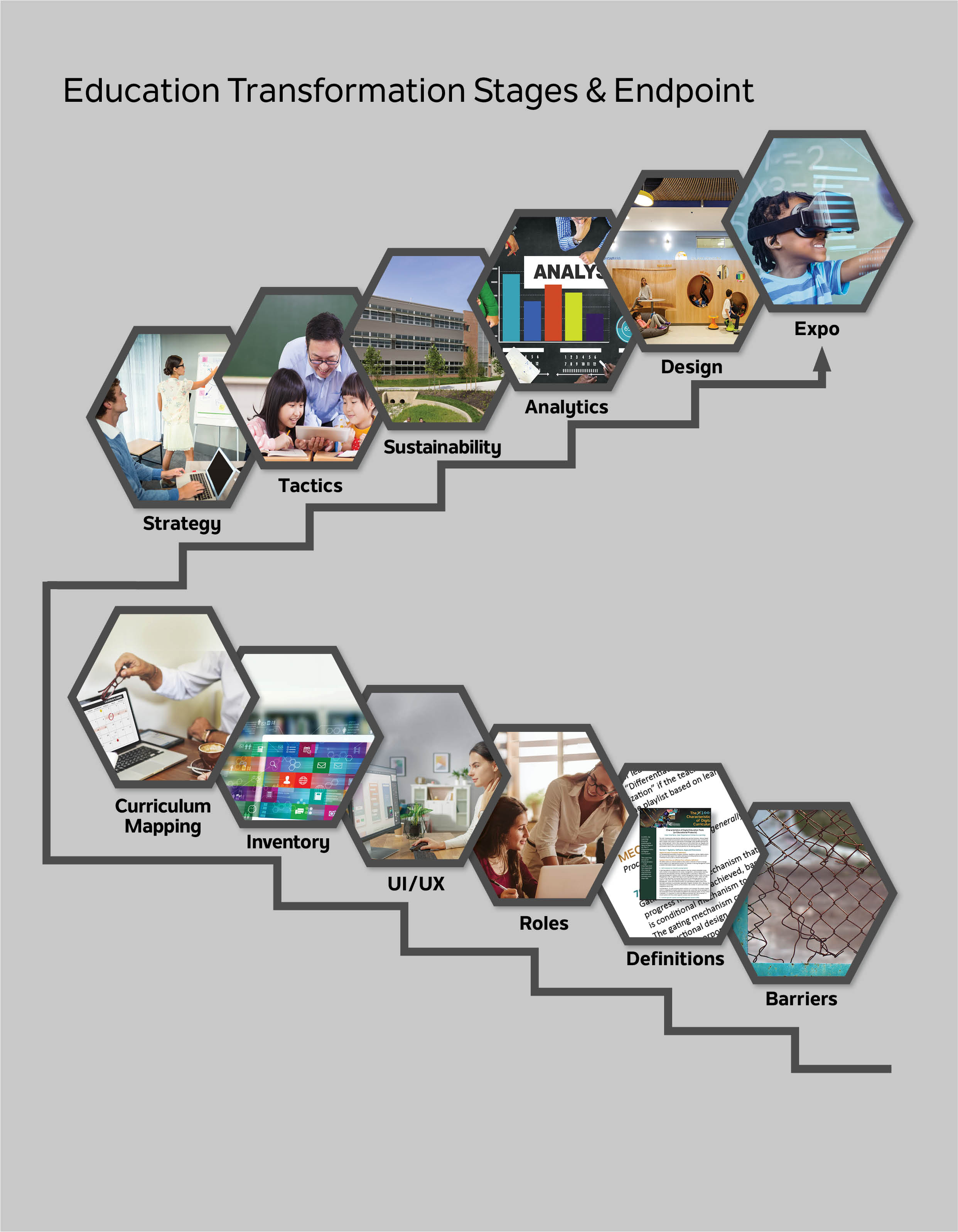 GET STARTED
The application process is your district's opportunity to highlight the great work your district is already doing to facilitate experiential and personalized learning and outline current work that demonstrates readiness for transformation to a hybrid logistics model. Critical to the work within the Project's scope is understanding of and commitment to personalized learning and hybrid logistics models, as outlined in the Learning Counsel's Digital Learning Reference Guide. While applying districts are not expected to have fully transitioned to personalized learning structures, connected planning toward that end should be evident in the application. Systems accepted into the Project cohort will enter at their own level and receive supports that can accelerate transformation.
HL Learning Center cohort begins in August 2022