Eduverse Expeditions from Avantis Education is the next generation of virtual reality in education. Its library of VR & AR content helps schools take students on virtual field trips in the education metaverse. Created by a team of expert teachers, Eduverse Expeditions provides free access to thousands of VR & AR resources, including engaging 360-degree photos and videos, 3D models, educator resources, and lesson plans allowing students to go on adventures and see famous landmarks, cities, and experience different cultures without ever leaving the classroom.
Eduverse Expeditions is powered by the "Eduverse," a built-for-education online platform from Avantis Education, which allows students to experience the fully immersive online content all from a secure, teacher-controlled virtual environment. Students appear as their avatars and can see and talk to each other, and work together as they explore these far-off destinations with guidance from their teacher as they would in person. They might work to identify characteristics of a rainforest they're standing in, or discuss the purpose of a Mayan temple as they tour its ruins.
Eduverse Expeditions works on any device, including Google Expeditions kits – helping districts breathe new life into their already-purchased VR programs.
Formats/platforms used:
Eduverse Expeditions is accessible on any device including laptops, Chromebooks, tablets, phones, VR headsets, and interactive whiteboards.
Primary website's URL: 
https://eduverse.com/expeditions/
Problem solved:
Eduverse Expeditions helps to boost student engagement and immerses them more deeply in content. It allows educators to go beyond just describing ancient ruins or a galaxy. Helping students to experience these things through virtual reality – for instance standing in the Colosseum in Rome, or gazing at the Milky Way from vantage points in Ireland, Chile, or the German Alps – takes engagement to the next level.
Eduverse Expeditions' extensive library of photos and videos are accessible from any device, including VR headsets or any device with a web browser. They are put together in a way that allows educators and students to virtually travel to different places or have unique experiences such as walking with polar bears, swimming with sharks, or traveling back in time to see what it was like in a World War I trench. Eduverse Expeditions also provides access to a range of virtual 3D models allowing students to get up close to and examine abstract and complex objects such as a human cell or an entire planet.
Grade range:
Grades K-12
Core or Supplemental?
Eduverse Expeditions is intended as supplemental instruction.
Subjects/topics:
Eduverse Expeditions can be used to supplement instruction in multiple topics. For instance, the "Animals" playlists can be used to support biology courses, the "Cities" or "North American Tours" playlists can support geography and history lessons. There are playlists for "Ancient Times," "Space," "The Arts," "Wellbeing," and more, providing engaging, interactive ways to supplement a myriad of lessons.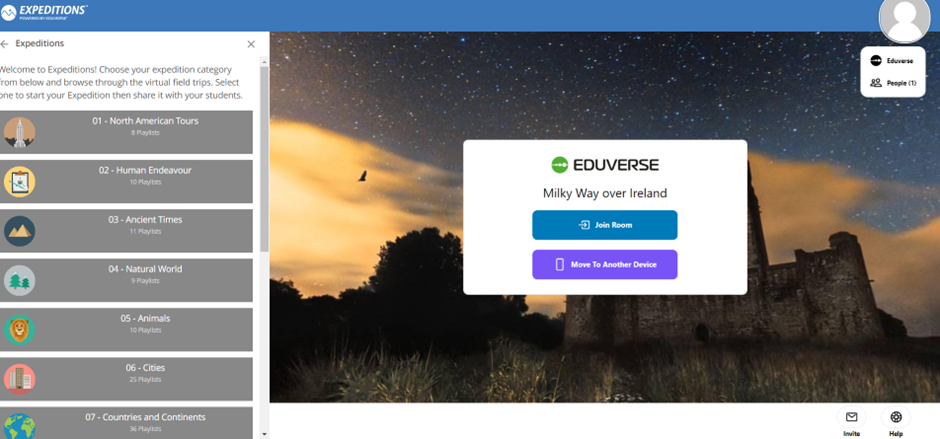 Lesson time needed:
The experiences in Eduverse Expeditions are controlled by the user. The teacher can control the amount of time that students participate in an experience. Eduverse Expeditions can be used for as little or as much time as is needed to support a lesson.
Pricing model:
Eduverse Expeditions provides access to thousands of VR & AR resources for free, on any device. There are options to purchase additional premium content and tools on a per student, or per classroom basis.
Additional services needed?
None
What makes Eduverse Expeditions unique?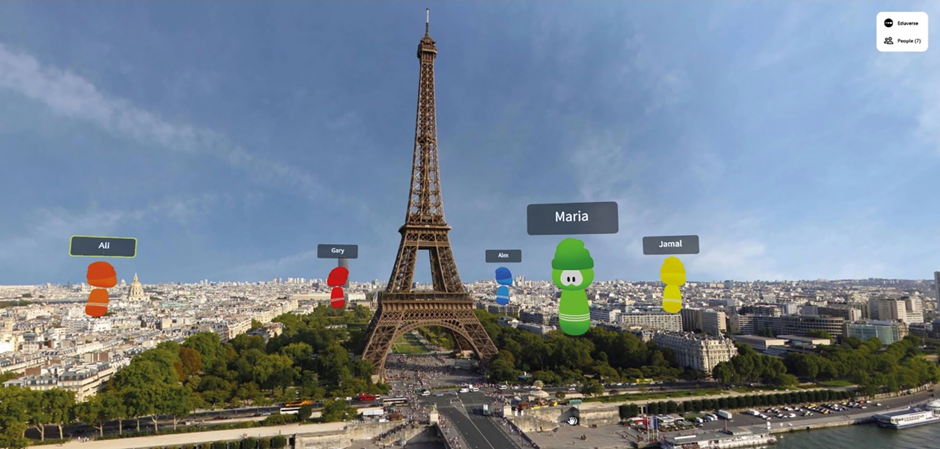 Eduverse Expeditions is unique in a number of ways:
It is built specifically for education.
It includes 3D models whereas Google Expeditions did not.
It is powered by the Eduverse. Features of the Eduverse include:


A safe environment. The platform is invite-only so the teacher is always in control of who can join the learning environment. The teacher leads students through the experiences, engaging them in conversations and collaboration, and can decide when to end the session.
Support for remote and hybrid teaching and learning. Eduverse brings students together in the virtual environment – including students who are learning remotely and those who are physically in the classroom. All students in the session are able to interact with each other as avatars, making Eduverse a great option for hybrid learning.
Multiple ways to deliver lessons. Teachers can have students access Eduverse on an individual basis, giving each student time to explore a learning scene on their own, or it can be used as a group. The teacher can allow students to explore content at their own pace, or guide them to selected scenes so they can focus their learning.
Characteristics:
Eduverse Expeditions uses AR/VR to engage students. It can be used with a VR headset to give the experience of being in the scene, or it can be used on a traditional laptop, controlled with a keyboard and/or mouse. It provides the user experience of being immersed in a scene and being able to move and walk around to explore the city or view the object from different angles.