Lincoln Learning's EK-12 curriculum design addresses the diverse learning needs of all students. We offer more than 200 courses and validated assessment items. Courses are created from more than 180,000 learning objects, autonomous blocks of educational content aligned to specific national or state standards. Learning objects are presented in multiple modalities, such as instructional text, videos, games, or other online and offline activities. Several learning objects are presented together as lessons. This framework gives students multiple ways to engage with, understand, and demonstrate their mastery of the content.
What formats/platforms are used?
Lincoln Learning's curriculum can be delivered through the Buzz Learning Management System (LMS) or the FocalPoint LMS. Our courses can also integrate with Clever for a single sign-on user experience. We will be OneRoster compliant prior to the end of the 22/23 school year.
Course lessons are housed and organized within topic folders in both LMS options. Lesson folders contain chronological lessons for student consumption. Schools can alternate days or weeks, depending on the intended use of the core courses.
One-credit course: 180 lessons (days)
Semester-credit courses: 90 lessons (days)
Quarter-credit courses: 45 lessons (days)
Primary URL: 
https://www.lincolnlearningsolutions.org/
Problem solved:
The Lincoln Learning curriculum is designed to provide flexibility and personalized learning opportunities to students. It enables educators and administrators to design an ideal program to meet the specific needs of the students within their school or district. Whether clients are building a virtual school or looking for ways to add more interactivity to their classrooms, Lincoln Learning's products and services can help.
The granular nature of the learning objects also makes the curriculum a perfect fit for blended classroom settings. In this learning environment, the curriculum can be used as supplemental content for students who need extra practice or for those who need to work ahead. It can also be used for flipped classroom models, for homework, and for whole group instruction. During an emergency or weather-related closure, the Lincoln Learning curriculum includes everything both the students and staff need to keep working seamlessly.
The Lincoln Learning courses are also available to home-school families via our eCommerce site. Families can choose from a full catalog of core and elective courses to meet the needs of their children.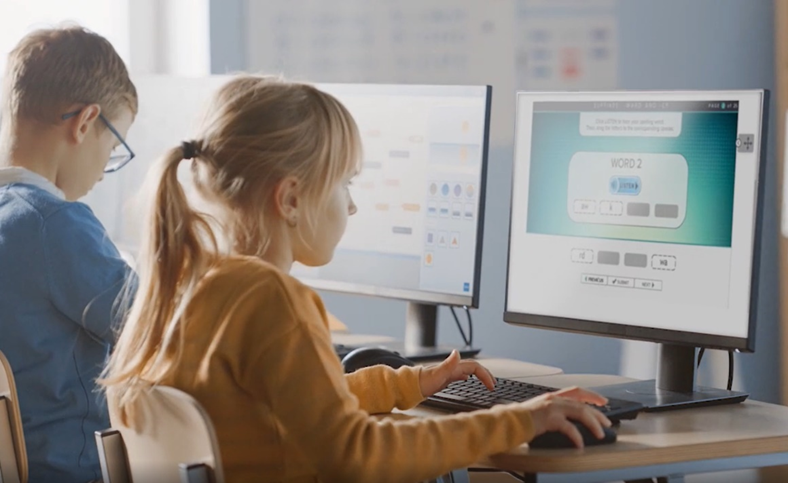 Grade/age range:  
Lincoln Learning's curriculum is designed for students in Early Kindergarten through Grade 12.
Core or supplemental:
The Lincoln Learning course catalog includes core courses in English Language Arts, Mathematics, Science and Social Studies. It also includes a wide variety of electives in art, music, world languages, physical education, and other general electives. The course catalog expands further offering a variety of career and technical education courses, powered by Pointful Education, which brings additional STEM, elective, and career exploration to the core curriculum offerings. Students who are seeking to make up for loss credits will have a wide selection of Credit Recovery courses to choose from.
The learning objects within the curriculum are used to create lessons. However, these objects can be used individually via the Lincoln Learning Object Repository to provide supplemental content to students for extra practice or for homework. Teachers can also use content from other courses above or below a student's grade level. In doing so, work can be assigned to help a student revisit a skill that still needs to be mastered or extend their knowledge by presenting the content in a new or more challenging way.
To assist all students with the complete comprehension of course content, Lincoln's learning objects boast innovative, user-friendly digital features from Texthelp, including a text reader, an extensive language translator, highlighting capabilities, and an advanced note-taking tool. Combined with a flexible learning management system, these features allow students and families to navigate, annotate, and translate course content. 
In tandem with Texthelp, the flexibility and consistent design of the curriculum permits content from lower grades or external courses to be pulled up and assessments to be modified for students who require additional help. This capability allows them to accommodate IEPs, GIEPs, and 504 Plans.
The assessment design provides clients the opportunity to adjust formative and summative assessments to accommodate student GIEPs, IEPs, and 504 Plans. The design of the assessments and the items therein paired with the capabilities that exist within the LearningTree platform give clients schools the capability to tailor assessments to an entire class of students, a subset of students within a given class, or even an individual student to make the accommodations laid out in GIEPs, IEPs, or 504 Plans.
The Lincoln Learning Professional Development team empowers users to cultivate an educational environment designed for student success by delivering creative resources, personalized training sessions, and ongoing support.
From implementation to well beyond your students' first day of learning, the Professional Development team is by your side. Collaboration between the client school and Lincoln Learning Solutions is the foundation that drives all our professional development offerings.
Our sessions support everyone - teachers, staff, administrators, and families - who utilize Lincoln Learning Solutions' products and systems. For detailed information on the professional development sessions they offer, click here.
Standards:
The meticulous course design process ensured that all Lincoln Learning EK-12 content is aligned with the Common Core State Standards in Mathematics and English Language Arts and meets the highest standards in other subject areas.
The elementary social studies and science curriculum is written in conjunction with the national C3 social studies standards and the Next Generation Science Standards (NGSS). These courses go through the same rigorous mapping and development process, with content calculated for readability and reviewed for age-appropriateness.
Additionally, our content authors employ universal design for instruction (UDI), the framework elements of 21st Century Skills, and the research-based strategies of the National Standards for Quality Online Courses and Quality Matters' K-12 Rubrics – standards of organizations dedicated to superior educational content. To validate content alignment to standards of all states, we employ the services of third-party organization EdGate.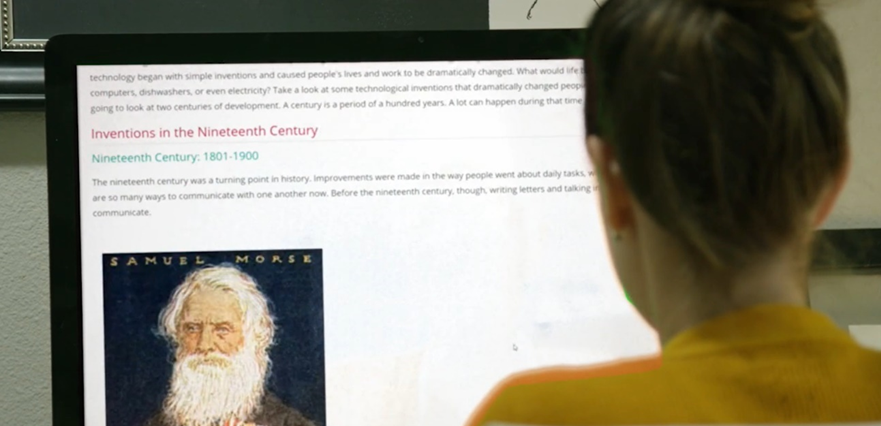 Lesson time needed:
All Lincoln Learning courses are designed to be asynchronous. Courses are available 24/7, 365 days a year. If the curriculum is being used by a school or district, it will be up to the school administration to determine pacing requirements. On average, a student can complete lesson content in about 40 minutes.
Pricing models: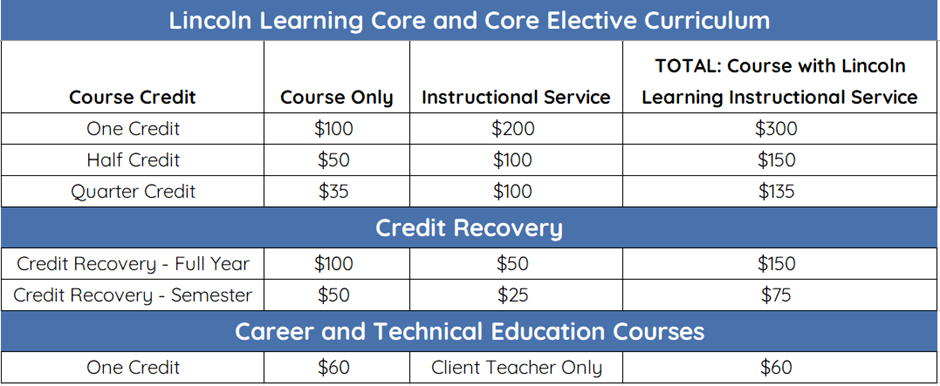 Site licenses available with a minimum enrollment of 500 students.
Please contact a Lincoln Learning Solutions Specialist for unique pricing options.
Additional services needed:
Because we believe that hands-on learning is vital to students' educational success, they offer a variety of physical materials as course kits to help support teachers and parents while facilitating our courses. Course materials are available at an additional cost. Details on course kits and materials can be found here.
Grades K-2: The Social Emotional Guide supports the social and emotional growth of students. It also serves as a guide for parents/guardians on their student's developing skills while offering supportive practices. A digital version of the Social and Emotional Guide is included with each K-2 course.
Grades K-5: The Parent and Teacher Guides allow students to receive multiple layers of support from an adult. Each lesson is broken into the following sections:
Activate: This section allows students to active prior knowledge to build on what they already know.
Engage: This section helps parents to engage their student with components of the curriculum.
Demonstrate: This section presets ways for students to demonstrate their understanding of the key concepts taught within the lesson.
A digital version of the Parent and Teacher Guide is included with each course. Printed and bound Parent and Teacher Guides can be purchased at an additional cost.
Instructional Services
Do you have a handful of students interested in learning specialized content, but no teacher for a course? Lincoln Learning instructional services can help. Administrators can enroll students in a Lincoln Learning course, such as German, and our teacher facilitators will do the grading and answer student questions. All you need is a computer or laptop for the student and a faculty member for supervision. We will take care of the rest.
The teacher facilitators communicate with students via email, LMS messages, assessment feedback, collaborate appointments, and conference calls (if applicable). Teachers respond to all student communication within one business day (24 hours). They provide strong feedback and utilize rubrics embedded within the curriculum. They grade assessments within two business days (48 hours). A Lincoln Learning teacher will monitor student progress on a daily, weekly, and monthly basis, specifically based on the student's pace and performance within the course.
Instructional services are available at an additional cost.
What makes Lincoln Learning Curriculum unique? 
The Lincoln Learning curriculum in the only online curriculum built with flexible learning objects. This design not only allows courses to be used in multiple ways and in multiple educational settings, but it also truly enables educators to tailor course content to fit the learning needs of their students. The learning objects within each course are presented in multiple modalities such as instructional text, videos, games, or other online and offline activities. Whether you are teaching auditory leaners, visual learners, or both, this framework gives students multiple ways to engage with, understand, and demonstrate their mastery of the content. 
In support of the multimodal approach, course kits provide student with manipulatives designed in conjunction with our curriculum. They also offer course kit items for direct purchase on Amazon, making it easy to purchase these optional materials.
The Lincoln Learning Object Repository puts a wealth of educational resources at a teacher's fingertips. When used as supplemental content, teachers can search for the exact type of content they need in the exact delivery method a student needs see it.
As a non-profit organization, they are dedicated to the success of our clients and their students. Implementation services are personalized for each client based on the school or district's needs. After implementation, all clients are assigned a Client Success Specialist as their single point of contact to ensure all program specifications are being met.
From full courses to specialized or supplemental instruction, the Lincoln Learning curriculum allows educators to design a personalized learning experience for every student.
Characteristics
The Buzz LMS is designed with the learner in mind. The varying and contrasting colors within Buzz help to direct the students' eye to color-coded sections within each course. The course layout and clear distinctions within the text help make navigation easy for students of any age. Buttons for assessment submission are intuitive and easy to see. For teachers, Buzz makes hiding content, adjusting assessment settings, and monitoring student progress quick and easy. Additionally, Buzz enables teachers to group students effectively for personalized learning.
The LearningTree LMS allows users to monitor pacing and standards mastery as well. The data dashboards provide the mastery reporting, as the items are tagged by standard and present mastery by these standards for both teachers and students. Some of the various reports available include: 
Enrollment Reports
Attendance Reports
Student Progress Reports
Student Performance Reports
District and School Summary Reports
Individual Student Reports
Screener assessments Reports
State Assessment Reports
Here's what users are saying:
"You are the absolute BEST!!! Your service is a HUGE reason I like working with your company!!!! There are so many details to consider with online schooling. I have toschedule classes, order courses, inventory books, monitor progress, record grades, schedule tutoring, etc., and I don't know what I would do without you and your awesome attention to detail. You always have my back when I make a mistake and are incredibly patient with me."
– Margie Fisher, Bald Eagle Area School District
"I like the content and progression of the material. It has many positive elements. I have used many online curriculums throughout my 17 years, and I'm happy with Lincoln's content, website, and difficulty level."
– Rural Virtual Academy Parent
"We are incredibly thrilled with the experience Lincoln Learning Solutions has delivered. The ease of navigation for both teacher, student and district has been impeccable, particularly in the early elementary age group. When early elementary learners begin the journey online, it can often prove to be a major learning curve. With Lincoln, you can see the focus developers have on the students they serve."