STEAM Hub is a subscription-based online learning platform that allows students and teachers to explore the world of STEM. With courses in coding, robotics, video game design, web development, 2D/3D design and more, STEAM Hub teaches essential STEM subjects while building 21st century skills including curiosity, problem-solving, critical thinking, creativity, and communication.
Each course on STEAM Hub features 20+ hours of learning content, learning simulators, full-length video lessons, curriculum connections, discussion posts, and embedded career connections. Certified by Education Alliance Finland, STEAM Hub keeps kids engaged, motivated, and empowered as they learn. Students can earn badges and certificates as they build skills and knowledge. Leveraging connections to the United Nations Sustainable Development Goals, STEAM Hub is on a mission to empower the next generation of global leaders.

Formats/platforms used:
STEAM Hub is powered by Open-Source Canvas LMS to host our online learning courses. Our base content sits in a repository with the ability to connect to other LMSs.

Primary URL:
https://steamhub.ca/

Problem Solved:
A recent report by the World Economic Forum stated the jobs of tomorrow will rely heavily on a good grasp of STEM subjects (Science, Technology, Education, and Math). Now more than ever, youth need to become self-directed, life-long learners. This means we need to alter how we teach and what we teach to unlock their full potential.
STEAM Hub offers cutting edge STEM learning to youth to help them grow their skills and become the next generation of global problem solvers. With many mastery pathways that guide student learning as well as ensure teachers are prepared to bring powerful educational experience into their classroom, STEAM Hub helps ensure that every child has access to the best of STEM learning no matter who or where they are.
Grade/age ranges:
Grades 3-12. Ages 8-18.

Core/supplemental/special needs/extracurricular/professional development?
STEAM Hub can be used in a wide range of contexts, whether at home or in the classroom and/or integrated in core instruction or as extracurricular programming.
The company is extremely committed to developing inclusive and accessible programs and learning opportunities for all youth, including students with special needs. They are proud to be a Learner Variability Certified Product through Digital Promise, which certifies that STEAM Hub employs the "learner variability" model to recognize that "all students differ, and learning sciences research shows that these differences matter for learning […] learner variability embraces both students who struggle and those who thrive […] because of the natural variability found in each person, in school and beyond."[1]
They recognize that in order to best support students, They must also support teachers. All STEAM Hub courses are available as professional development courses for teachers that are certified through microcredentials backed by Digital Promise.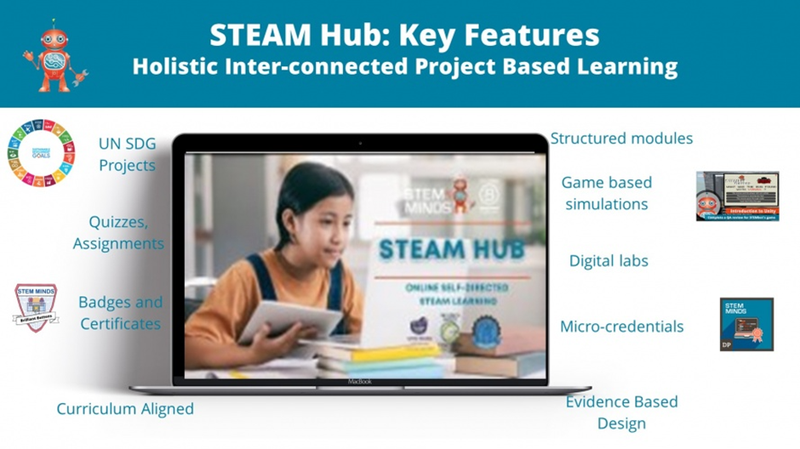 Standards:
CSTA & K12 CS Framework
UK National Curriculum
State of Iowa Computer Science
Ontario Curriculum
British Columbia Applied Design, Skills & Tech Curriculum
TEKS Curriculum (Texas)
California Curriculum
Next Generation Science Standards (NGSS)
International Society for Technology in Education (ISTE)
Please see https://www.dropbox.com/s/5ecmr3ikfdrqu3j/STEAM%20Hub%20Curriculum%20Map_OFFICIAL.xlsx?dl=0 for the full curriculum map

Lesson time needed:
Courses offer 20+ hours of learning content each, with individual modules averaging around 45 – 75 minutes depending on the course.

Pricing models:
Pricing models are customer driven based on how they want to use the product.

Additional services included or needed:
STEAM Hub is committed to providing real world experiences for students and teachers. As a result, courses are designed around industry-standard third-party platforms to support student learning.
A full list of third-party tools used within STEAM Hub can be found at https://steamhub.ca/third-party-tools/
What makes STEAM Hub unique?
STEAM Hub takes a holistic approach to STEM education. With more than 65+ courses available across a wide range of topics from coding, video game design, robotics, digital design, financial literacy, artificial intelligence and more, there is truly something for every child. They take a strong focus on hands-on learning experiences that demonstrate how these skills and competencies can be used to make a difference in the real world, especially in connection with the United Nations Sustainable Development Goals.
All courses are designed by certified teachers and STEM professionals and are fully research-based, as demonstrated by our certification with Education Alliance Finland. Additionally, as part of our commitment to ensuring that STEM education is accessible to every child across the globe, we are proud to be a Learner Variability Certified product through Digital Promise, demonstrating that STEAM Hub is able to support all learners.
Finally, to certify both teacher and student learning , STEAM Hub offers a range of microcredentials connected to our mastery pathways.

Characteristics:
Instructional design approach to all courses includes the following elements:
Clear Learning Outcomes. Students learn best when they have learning goals and success criteria to guide them. All courses include clear learning outcomes through the communication of "learning goals" in each lesson.

Constructivist Approach through Project Based Learning & Hands-On Learning. Students construct their own learning and meaning as part of a learning community. Students learn best by doing. All courses are heavily focused on students getting hands-on experience with the skills and tools being explored. Hands-on projects and challenges and provide students with many pathways to find personal connection to their learning.

Core Skills and Student Voice. Students want to do more than just follow along with a tutorial. All programs take the approach of equipping students with the core skills they need for success and asking them to apply those skills through hands-on projects to create their own unique approach to learning. As such, students are given flexible projects through which to apply their skills and are given opportunities to extend their learning through program elements such as the "Global Goals Challenges".

Real World Connections and Jobs of the Future. All courses make meaningful connections to career opportunities so students are inspired for what the future may hold. Students apply their skills to projects with real world problems in order to build their critical thinking and creative problem-solving skills. These connections promote flexibility and adaptability as the jobs of the future are currently unknown.

Mastery Pathways. Through a holistic range of programs and courses, students have the opportunity to explore mastery pathways to advance their skills and make authentic connections between topics. In order to support student learning, we have developed a detailed microcredential framework to provide certification of student learning and guide students in understanding the connections between what they learn.

Differentiated Learning. As outlined in the Learner Variability framework, all students are unique. By providing flexibility in how students demonstrate their learning, we are able to effectively differentiate for students in order to meet them where they are.

Here's what users are saying:
"My students love STEAM Hub! As a teacher with no STEM experience STEAM Hub gave me everything I needed to support my students. The courses were extremely well organized, user-friendly, and ensured all learner needs were accommodated. Without STEAM Hub, I would not have been comfortable introducing my students to STEM"
--Miriam S., Teacher