eSuite is a comprehensive coaching and professional growth platform. Developed by engage2learn (e2L), eSuite helps K-12 public school districts efficiently manage the coaching processes system-wide. By using the content-agnostic platform, districts can personalize coaching for every educator, create recognition systems that reward and accelerate educator growth, and analyze coaching efforts and their impact on teachers and students alike.
eSuite includes several professional learning and growth apps in one integrated platform:
1. eGrowe Coach is used to manage, organize, and document the entire coaching process. It captures formative growth data on skills and competencies mastered, by teachers and leaders. Rubrics provide a roadmap of strategies and tools to ease the lift on coaches as they support teachers.
2. ePLC is an online professional learning community where educators can create, share, and find resources and online courses aligned to research-based instructional best practices. ePLC organizes the thousands of resources to "choice boards" which provide personalized growth options tailored to each educator's need.
3. eSuite Reports provides coaching and growth analytics and reporting across a district or campus. It summarizes data collected across the eSuite ecosystem and external sources into easy-to-read reports that allow administrators to correlate educator growth and student outcomes.
Formats/platforms used: 
eSuite works on any device, mobile or desktop.
Primary URL:
Problem solved:
The achievement gap is growing rapidly. The greater the gap, the harder it is for teachers to design learning experiences that ensure each and every student has a clear path to mastery, regardless of their background or current level of understanding.
eSuite has everything teachers need to improve student achievement — and for a fraction of the cost of other professional development platforms. It includes the standards-aligned learning units, professional learning resources, comprehensive coaching support, and reporting that educators need to close gaps while fueling their own professional learning and growth.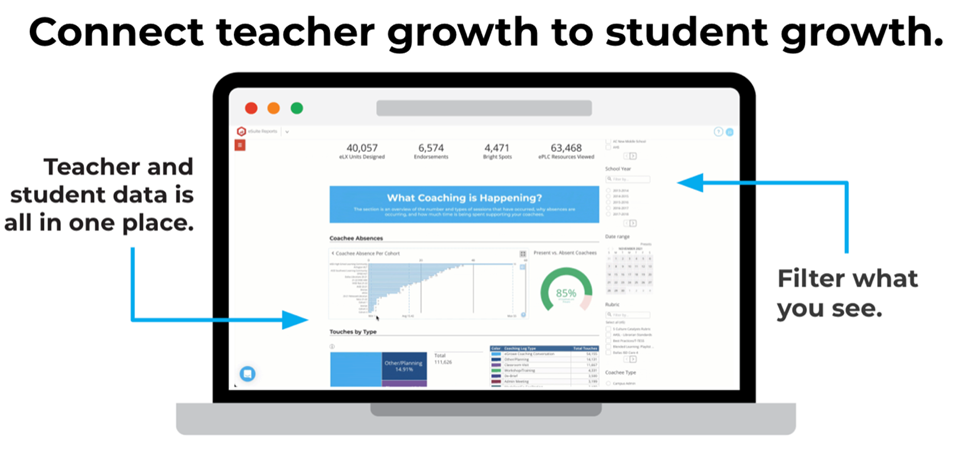 Age/grade range:
 K-12 educators at all levels
Core, supplemental, special needs, extracurricular or professional development?
Professional development
Standards:
eSuite incorporates state and national subject area standards for students, and research-based professional learning standards for educators.
Pricing model:
eSuite is purchased as an annual subscription. This license provides access to the entire suite. Pricing is tiered, based on the number of users or sites.
Districts can also request a free trial.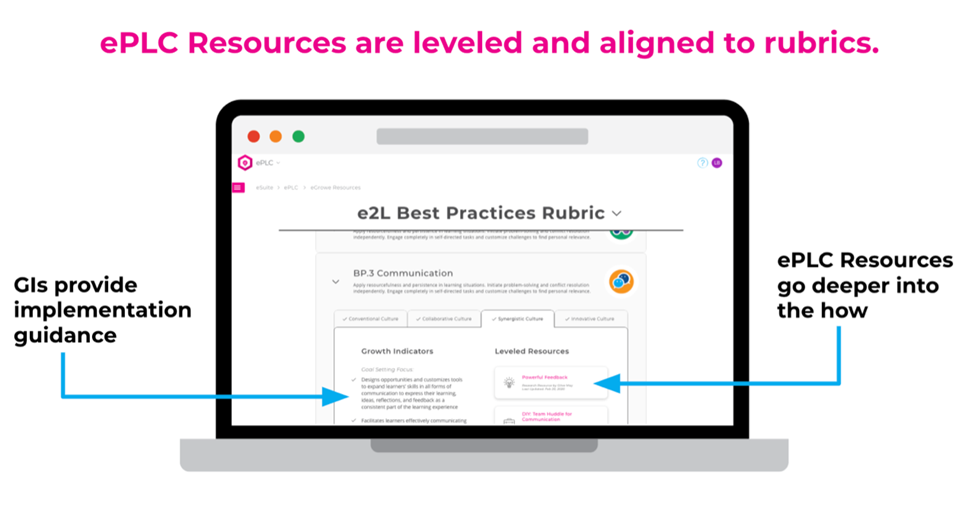 What makes eSuite unique? 
eSuite is the first comprehensive coaching and professional growth platform designed to help public school educators both standardize and personalize coaching and growth for everyone. 
1. eSuite helps educators grow significantly in a short amount of time. By utilizing the eGrowe Coach app, districts can guide instructional coaching with a laser focus on growth and evidence.
2. eSuite provides quick access to valuable information that fuels teachers', coaches', and leaders' professional learning and growth. The ePLC app offers a vast library of professional learning rubrics and resources curated by educators across the country. The rubrics incorporate actionable growth indicators and provide clear, concise guidance for implementing best practices for learning in any environment.
3. eSuite helps districts readily see the impact of their investments in professional development and coaching. By utilizing the eSuite Reports app, districts can track teacher and student growth for a clear picture about what is (or isn't) positively affecting student outcomes.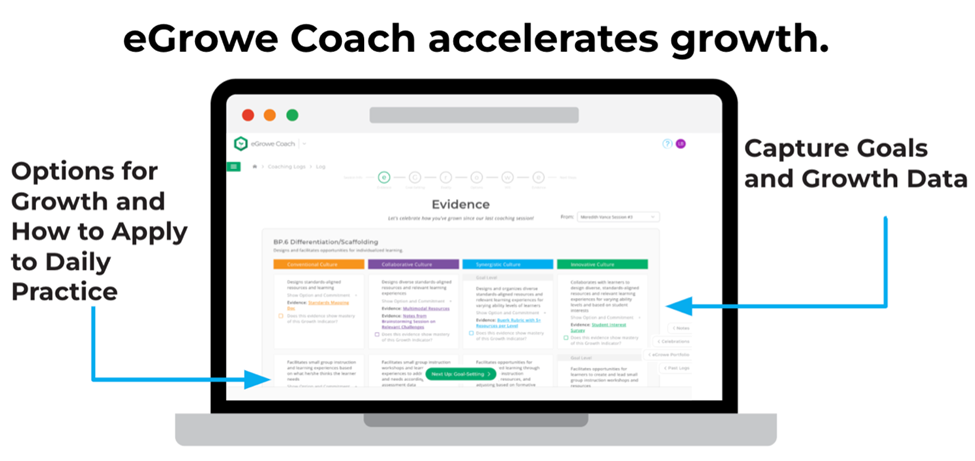 Characteristics:
Since each district is unique, eSuite has built-in customization in many areas, including curriculum standards, professional learning standards, badging, reporting, lesson plan templates, and resources.
Here's what users are saying:
"I love being able to see the goals my teachers have set in their coaching sessions and how I can support that between sessions."
— Leslye Roberts, Principal, Abilene Independent School District, Texas
"eSuite [is] fantastic for us, as the administrators on campus, to have access to see where our teachers are growing."
— Michele Josselet, Principal, Abilene Independent School District, Texas
"I am loving the ability to log anything and everything I am doing as a coach!"
— Leticia Corey, Early Literacy Coach, Mesquite Independent School District, Texas