The AI Coach by Edthena is a first-of-its-kind solution that helps schools and districts provide all teachers with more coaching in order to improve teaching effectiveness. The AI Coach platform uses artificial intelligence to guide teachers through coaching cycles aligned to common growth areas. Teachers use the AI Coach platform as a supplement to existing observation and feedback.
While working inside the AI Coach platform, teachers have a conversation with Edie, their virtual coach. Edie asks teachers about their professional goals, and then teachers analyze and reflect on videos of their classroom instruction by adding time-stamped comments. 
Edie takes a guide-on-the-side approach to help teachers create action plans to increase impact with their students. As part of their conversation with Edie, teachers develop a short-term goal, identify a strategy for change, and commit to a timeline for classroom implementation.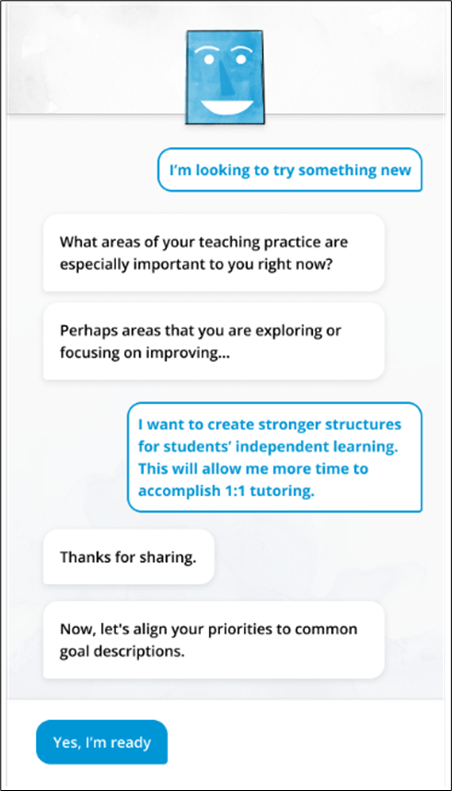 The AI Coach platform personalizes the coaching cycle for each teacher's self-identified focus areas. For example, if a teacher indicates they are interested in improving "use of academic language," the AI Coach platform provides related observation tips for their video analysis. Then, when it's time for the teacher to develop a strategy for making progress on their goal, the platform offers curated content with strategies and ideas to help the teacher learn more about "use of academic language." This evidence-based process complements the efforts of school leaders and instructional coaches, as well as enables teachers to receive the benefits of coaching in-between their person-to-person coaching and mentoring conversations.
Formats/platforms:
The AI Coach platform is cross-platform compatible and runs on any device with a modern web browser. It also includes browser-based recording and uploading functionality that works on Chromebook, Windows, MacOS, Android, and iOS.
Primary URL:
Problem solved:
Instructional coaches and school leaders are often stretched thin trying to support all their teachers—there is often more coaching to be done than can fit into the hours of the school day. With the AI Coach platform, teachers can continue their professional learning in-between a coach's scheduled visits. This independent learning done by teachers within the AI Coach platform informs future in-person coaching conversations.
Additionally, the platform enables teachers to meet with their virtual coach on a schedule that's convenient and flexible to the changing demands of the school day. Teachers have the option to pause their coaching cycle at any point during the process and continue later right where they left off.
Grade/age range:
The AI Coach platform is designed to support all PK-12 teachers for professional learning.
Core/supplemental/special needs/extracurricular/professional development?
Professional development
Topics:
The AI Coach platform is trained by experienced instructional coaches to support teachers in a variety of common professional goal areas:
Managing student behavior
Positive teacher-student relationships
Classroom routines and procedures
Checking for student understanding
Facilitating group discussions
Eliciting student thinking through questioning
Clearly presenting and explaining content
Culturally responsive teaching
Student:teacher talk ratio
Pacing
Differentiation
Providing feedback to students
Learning Time Needed:
The AI Coach cycle takes a teacher approximately two hours of active-learning time spread across two weeks.
Teachers first spend about one hour analysing video of their classroom reaching, reflecting on what they see, and developing a plan of action to make progress against their prioritized goals. Then, the teacher pauses to implement the change within their classroom and collect new data. Those data are shared back to Edie, the virtual coach, as part of the final phase of the coaching cycle when teachers determine the impact of their changes
Pricing model:
The AI Coach platform makes it financially feasible for every school and district to scale-up their coaching process to reach every single teacher.
For less than the cost of a half-day workshop, a principal can provide the AI Coach platform to teachers throughout the year. And, unlike a one-time workshop, the AI Coach platform offers ongoing learning by allowing teachers to complete multiple coaching cycles.
Teachers receive PD clock hours for each completed coaching cycle, too.
Additional services needed:
The AI Coach platform is a standalone solution—there is no hardware or additional services needed, no applications to install, and no special technical permissions required for teachers to get started.
All AI Coach users, teachers and coaches alike, have access to a diverse set of support resources embedded directly within the platform experience. Edie, the virtual coach, connects teachers to resources in a just-in-time way.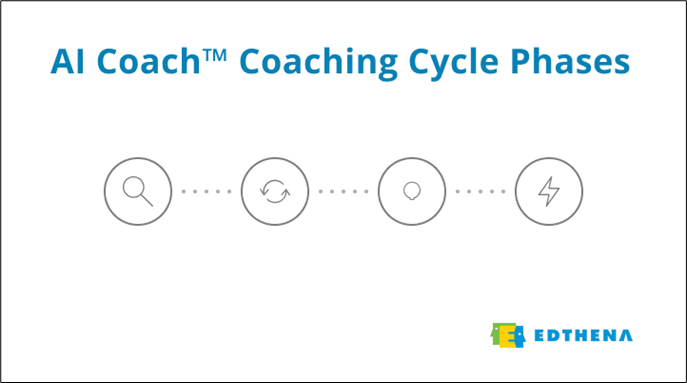 What makes AI Coach unique?
The AI Coach platform is a true standout in the edtech space as it is a first-of-its-kind solution that helps schools and districts provide all teachers with more coaching. There are no other solutions currently like it. The AI Coach platform was awarded the 2022 Edtech Breakthrough Award for Best Use of AI in Education!
AI Coach by Edthena uses conversational artificial intelligence to personalize teachers' experiences throughout the coaching cycle. This means the platform learns about each teacher's professional priorities and then offers contextually-relevant guidance, customized observation tips, and curated resources for review during the strategy-setting process.
Characteristics:
The platform provides an intuitive and streamlined way for teachers to work through the four distinct phases of the coaching cycle. These phases are:
Analyze. Teachers analyze their teaching videos by adding timestamped comments
Reflect. Teachers summarize their strengths and areas of potential improvement
Enact. Teachers develop a near-term goal and concrete plan of action for a next step
Impact. Teachers document the impact of their plan on student learning
At the end of the AI Coach coaching cycle, teachers receive a Reflection Log which documents their learning and a PD clock-hours certificate.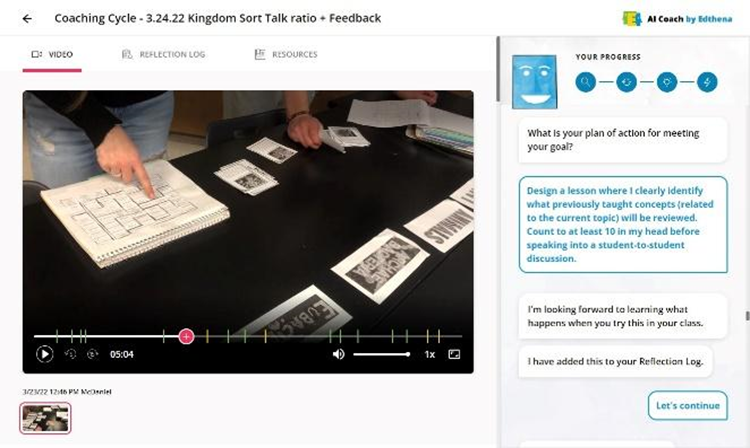 Here's what users are saying:
"Throughout the coaching cycle, one of the biggest benefits was the personalization AI Coach provided. The virtual coach helped me develop my specific goal and reflect on that goal using targeted prompts. This taught me how to better coach myself — what to look for and what questions to consider. Since my principal and in-person coach cannot be in my classroom every day providing feedback, this acts as a great supplement to their ongoing support."
– Donna McDaniel, a teacher at Keller Independent School District
"AI Coach provides processing support that is immediate and based upon teachers' own instructional practices. It enables teachers to continue to independently reflect and improve on the work we start together. This builds upon the learning from our coaching cycle and provides a bridge until the next time we are able to connect."
– Courtney Groskin, a learning coach at St. Vrain Valley School District