Giant Steps is a new gamified digital learning experience designed to enable independent practice and collaborative learning. Launched in February 2023, Giant Steps is made for educators, by educators, and draws upon learning science and educational research to optimize learning outcomes. It can be used to practice information taught during class, to revisit skills or standards that students may be struggling with, and to reinforce prior knowledge before a lesson. Every detail of the product is designed to cultivate a growth-mindset, increase motivation, and facilitate the creation of a positive learning community.

Formats/platforms used:
Browser-based and compatible with mobile devices

Primary website's URL:

Problem solved:
Giant Steps is a gamified digital learning experience designed to reinforce learning through collaborative gameplay. With Giant Steps, students can revisit and practice material taught in class in a low-stakes environment, where they can work in teams or independently, and teachers can identify where students need additional support. Giant Steps gives students the opportunity to participate in energizing, engaging, and impactful learning experiences that strengthen their skills and accelerate student learning. The product's deliberate design decisions are steeped in learning science, built by educators, for educators, to maximize impact.

Grade/age range:
Giant Steps is designed for K-12 learners and teachers.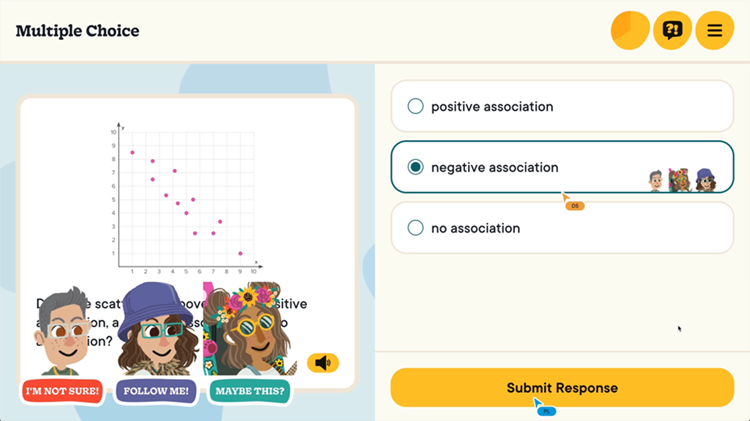 Special features:
Giant Steps was designed with inclusivity in mind. In order to meet the needs of diverse learners, the team developed a number of features, including timer and audio features. With the timer, teachers can specify the amount of time students have to respond to each question and can extend time if students need longer. With the audio feature, students can hover and click to hear questions and answers read to them. With the image feature, practice sets are made more visual for learners.
Giant Steps can be used at home or in school, with nearly half of all early student users already using the product outside of school hours.

Standards:
Giant Steps includes high-quality, standards-aligned Practice Sets across subject areas. Educators can also create their own questions in a variety of formats.

Lesson time needed:
Giant Steps can be used collaboratively or independently for any amount of time in class, as well as by students when they get home.

Pricing model:
Giant Steps is currently free to all educators in the U.S.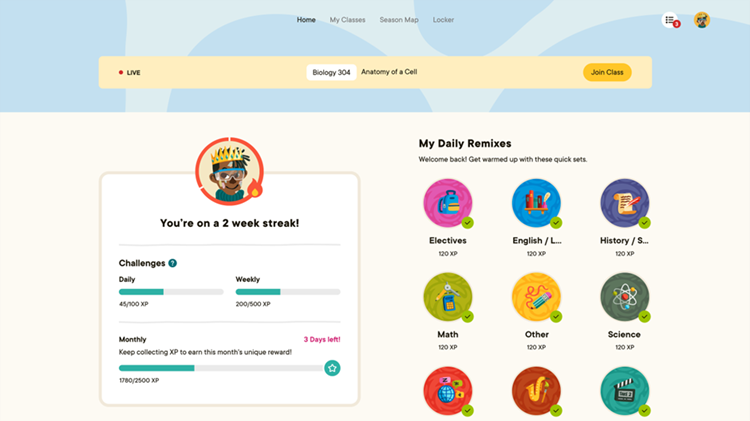 What makes Giant Steps unique?
● This product is groundbreaking for a few reasons:
○ It's grounded in learning science and efficacy research, making every aspect of the design totally intentional and geared towards stronger outcomes.
○ It's inclusive. The product development team consulted with DEI experts from the University of Southern California Rossier School of Education to ensure all students could see themselves represented.
○ It's fun. And, it's already working. Of the 5,600 students with early access to the product, nearly half are already self-motivating to use the product outside of class.

Characteristics:
● When designing this unique learning experience, the Giant Steps team was very intentional about every aspect of the design, because engaging students is important to helping them become active learners. So, the goal was to create a virtual world that is fun, welcoming, and overall encouraging for students. Upon opening the platform, students are immediately directed to the material they need to practice most. Recommended practice content is personalized to include the questions they are struggling with most, and upcoming assignments are highlighted to help students stay on track. They can track their own progress on monthly and weekly challenges, and are congratulated with exciting visuals when they master new standards and reach new milestones. Students move through the platform with their avatar ever-present, celebrating their wins with them and virtually high-fiving other students in their classroom – adding a strong element of teamwork and engaging students through camaraderie and fun.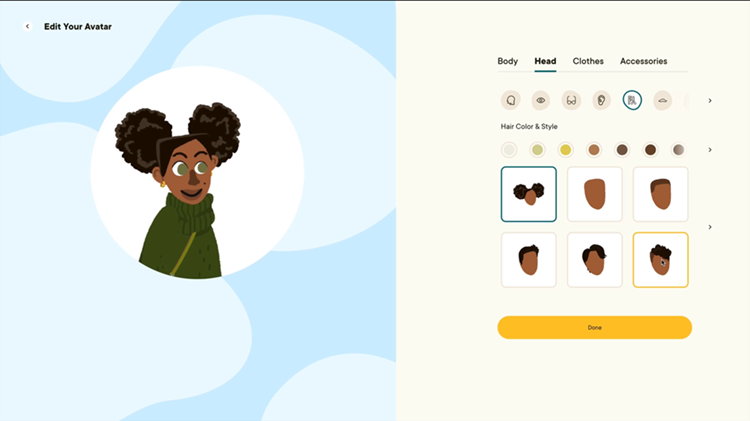 Here's what users are saying:
"I would describe Giant Steps as a game changer. It's a daily tool that should be used to leverage technology to enhance students' thinking and learning."
--Cecelia Gillam, a science teacher at Hahnville High School in Boutte, Louisiana.
"A huge piece the students and I noticed right away was the visual diversity and inclusion the outfit choices allow for. A variety of clothing, headpieces, hairstyles, etc., allows students to create a unique character that allows them to express themselves in a way that is authentic to who they are. Academically, this program allows students to work together, no matter what they may bring to the table, and it encourages them to support and enhance the learning of one another."
-- Math Instructional Coach Miranda Magley from Liverpool Central School District in New York