Sprig Reading combines a clever use of technology with an evidence-based literacy approach that enables teachers to assess their students, track progress and boost literacy success.
Their proven Circle Chart methodology assesses, teaches and tracks every single literacy skill from the eight research-identified literacy foundational skill sets.
This program ensures every learner is on a path to reading mastery and has consistently brought over 90% of students to reading at grade-level.
Format/platform used:
A desktop application that works on all operating devices.
Primary URL:
https://www.spriglearning.com/
Problem solved:
Sprig Reading helps teachers to instruct, assess and differentiate early literacy skills that are based on the Science of Reading.
Grade/age range:
Junior kindergarten to Grade 2.
Core or supplemental:
The product addresses both core and supplemental needs. There is also an additional component of professional development that is available for purchase.
Topic:
Language.
Pricing model:
Three tier pricing. Free. $500 per classroom per year. Enterprise pricing is also available for school districts.
Additional services included:
In-app tutorials are included with the premium version.
What makes Sprig Reading unique? 
It offers teachers an intuitive and fun way to track all foundational reading skills that are essential for reading proficiency by Grade 2.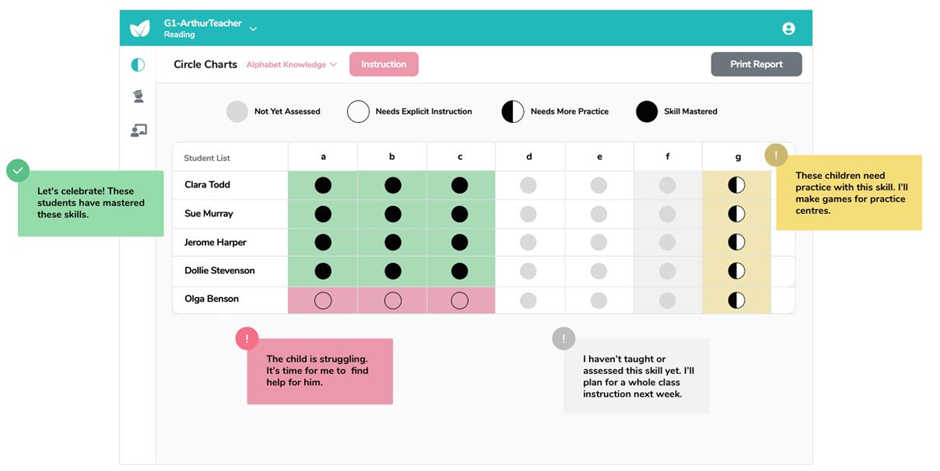 Characteristics:
It is designed for teachers, where they can filter progress by student and by classroom.
Here's what users are saying:
"The circle charts were a game changer in primary literacy. They allowed us to zone in on gaps and explicitly teach the foundational literacy skill that a child was missing."
--Christy Fennell, Superintendent, SD 59 Peace River South
"By the end of our first year, all of our kindergarteners were reading. 100% of them! This app works because it's research based. It has completely changed the trajectory of our students and the way I teach literacy."
--Dianne Bassendowski, Principal of Windrem Elementary