Speak Agent is a research-based, K-12 English language development (ELD) platform that significantly impacts math, science, and ELD outcomes for all students, with a focus on serving historically marginalized and multilingual learners.
Speak Agent's Math+Language℠ and Science+Language℠ programs improve performance by empowering students to learn content through language. Students use the programs to master key STEM concepts, develop reasoning and modeling skills, and to express mathematical thinking and scientific ideas. The ready-to-use digital lessons seamlessly integrate with a school district's existing curriculum and provide real-time formative assessment data.
Speak Agent's suite of programs includes:
● Math+Language K-5
● Math+Language 6-8
● Science+Language K-5
● Science+Language 6-8
● Multilingual High School℠ (Algebra I, Geometry, Algebra II, Biology, and Physical Science)

Formats/platforms used:
Web version: Speak Agent runs in a web browser on any computer, Chromebook, or tablet with an internet connection. There is no need to install any software.
Mobile version: Students may access all assigned activities on iPhones®, iPads® and Android devices. Speak Agent supports single sign-on (SSO) for both web and mobile versions.

Primary website URL: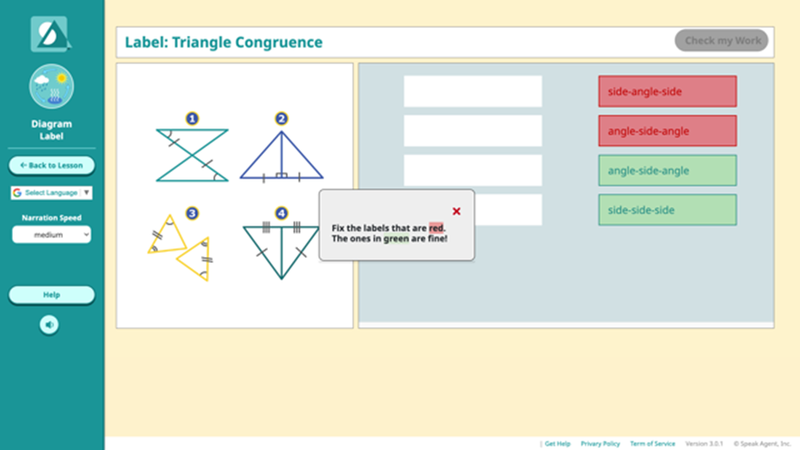 Problem solved:
In order to succeed in today's Math and Science classroom, K-12 students must learn to use the relevant academic language. This specialized language is required for understanding the content, math reasoning and modeling, investigations of scientific phenomena, and for classroom discourse. It is also a critical part of math and science assessments and is embedded in the most challenging item types.
Yet academic language is no one's home language. All learners are academic language learners. Strong math and science language skills are needed for gathering and evaluating information, expressing facts and opinions, analyzing errors, explaining solution steps, arguing from evidence, and communicating conclusions.
With Speak Agent, language is embedded in math and science practices. It boosts math and science outcomes by improving vocabulary, content knowledge, and STEM communication and reasoning skills.
With Level 2 ESSA evidence of promise, Speak Agent meets the ESSA requirements for Title I and Title III funds. It is also eligible for ESEA, IDEA, or ESSER-1, ESSER-2, or ESSER-3.

Grades and/or age range:
K-12

Core or Supplemental:
Supplemental

Subject/topic:
Speak Agent can be used with any math, science, or STEM curriculum. It aligns to national standards (CCSS, NGSS) and state standards.
Speak Agent provides districts with ready-to-use digital lessons and activities that are mapped to their scope, sequence, and pacing.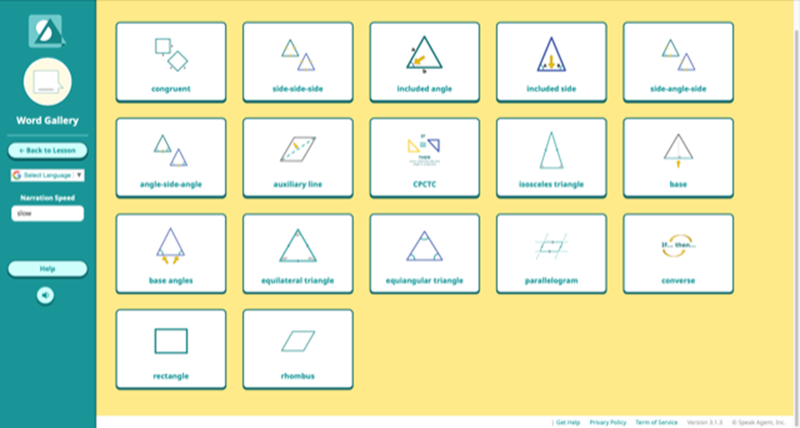 Lesson time needed:
The recommended dosage is typically 60 minutes per week, but this can vary by grade level and curriculum.

Pricing model:
Schools may purchase a site license. Districts may either purchase multi-site licenses or English Learner seat licenses.

Additional services:
Speak Agent offers in-person and online professional development. Self-paced professional development is available 24/7. All programs also come with individualized teacher support in the form of online, on-demand coaching.

What makes Speak Agent unique?
Speak Agent significantly boosts achievement in Math, Science, and ELD among historically marginalized learners by empowering all students to learn content through language.
● A groundbreaking new data analysis of 1,600 classrooms in 86 schools found that Speak Agent's Math+Language program led to significant gains in math scores for historically marginalized middle grade student populations. By following the recommended dosage, students were able to achieve gains of 10% or more on their math assessment scores.
● The study also found a significant effect on multilingual learners' English Language Proficiency and WIDA ACCESS scores across all language domains.
● Likewise, a study sponsored by the National Science Foundation found that Science+Language accelerated science concept mastery by 210% over standard instruction.
Students report high engagement, and that Speak Agent helps them learn. They also state that they prefer Speak Agent over other tools and activities.
● In a survey of 2,500 middle school students by Speak Agent's district partners, 72% reported that Speak Agent is their #1 most effective resource for math and science learning. The respondents were 92% Black & Brown, 21% multilingual, and 66% Title I.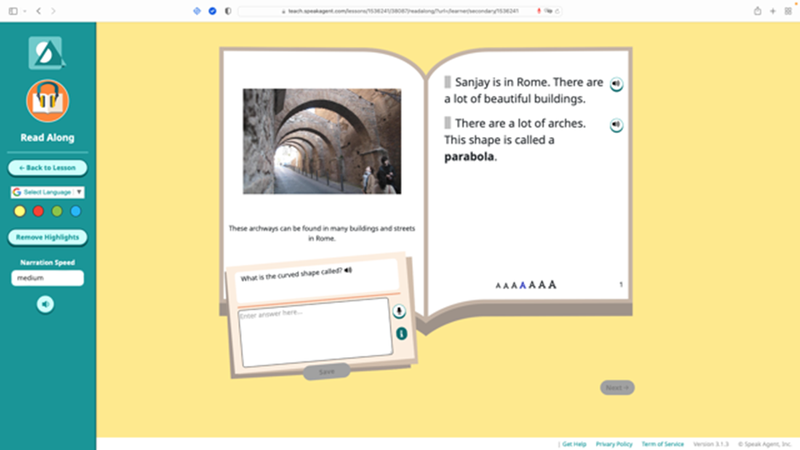 Characteristics:
As a Learner Variability certified product, Speak Agent is designed for universal accessibility, including special needs and the needs of multilingual learners, including newcomer and SLIFE students. It comes with a variety of tools for differentiated instruction and student visual and audio settings, as well as built-in language supports and visual aids.
As a Research-Based Design certified product, Speak Agent embeds 36 research-based instructional strategies into its ready-to-use digital lessons and activities. Together with our curriculum mapping service, this makes for exceptional ease of implementation. Each multi-day lesson supports the school district's learning objectives and includes a formative assessment to check progress against the objectives.
Each Speak Agent module corresponds to a unit of study in the district's curriculum and builds concept knowledge at three levels of depth: Each activity addresses a critical part of academic language development:
● Introduces key concepts – Students gain familiarity with new concepts through a built-in teacher presentation tool as well as independent practice with multimodal activities.
● Builds context – Students develop comprehension through independent reading of STEM stories, puzzle games, and interactive responses to those stories and games.
● Applies knowledge – Students apply new knowledge using higher-order thinking.
Each Speak Agent module wraps up with a memory-consolidation activity and a formative assessment to help with retention and to identify misconceptions that may require reteaching.

Here's what users are saying:
"My experience with Speak Agent was great. When I first presented it to students, I expected cries of "this is boring", however, the opposite occurred. While I had planned to guide them through the program with an introduction, students immediately jumped in and started working calling out things like "Oh, I like this!". Daily, students arrived at class and said, "Can I go ahead and login to Speak Agent?". After Thanksgiving Break, I noticed that a student had logged in at home and completed over 10 units on her own time!"
--Quote from KIPP teacher using Speak Agent with 7th grade students.