Boo is a minimalist, AI-based text editor for copywriting, note-taking, brainstorming, and all-around AI tinkering. One of the biggest differences with Boo is the focus on writing with the AI. Most other apps focus on content generation — that is, you ask the AI to write something (eg. Blog post), fill in a few form fields on the topic, and the AI will write it for you. Boo offers this as well, in the form of templates, but Boo focuses more on the text editor and writing tools.
Boo has a rich autocomplete feature that can help finish your sentences by simply pressing tab. Tools for AI provide instant feedback on your writing, suggesting stylistic/structural changes that could improve the flow of your writing. Users can kick off a custom prompt anywhere by typing a "/". From there, they can type anything they need, whether it's "Add a short conclusion" or "brainstorm 3 potential headings", etc.
Unlike many other apps on the market, Boo is also built to become more and more personalized over time. It uses samples of your writing to ensure it has the right style and context when making suggestions.

Formats/platforms used:
Boo uses GPT-3.5 to create a rich, but minimalist, text editor.

Primary website URL:

Problems solved:
Boo aims to be the simplest, fastest way to use AI for writing and editing.
Brainstorm
Edit writing
Eliminate writer's block
Organize notes
Boo has users that use it to:
Write fiction/literature. Often, they largely use the autocomplete with a few prompts here and there.
Completely handle one part of their job. For example, one user works at a travel website, and uses it to write up descriptions for travel destinations, and others that are real estate agents who use it for property descriptions. They largely use the templates, with no other editing/prompting.

Grade/age range:
All ages and ranges can use Boo.ai.

Standards:
There are a pretty wide range of use cases, and plenty of people that use it for generating content for their work, such as real estate agents who can quickly create engaging property descriptions, or travel writers who need to write marketing copy for travel destinations. They also have a surprising amount of users who use it for creative writing/fiction. Some users are using it purely for writing cold emails and replies.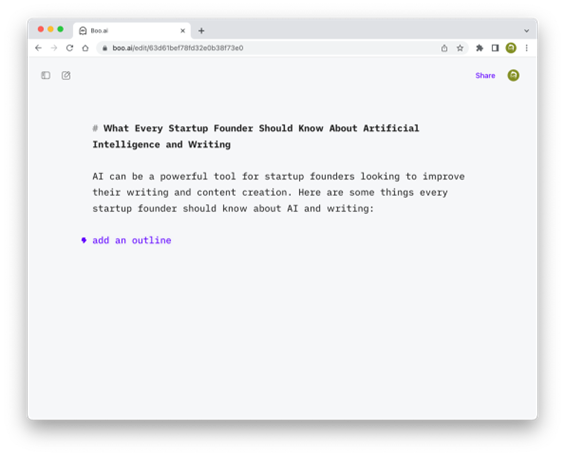 Lesson time needed:
5 minutes or so. The tool is really user friendly. The minimalist aspect of Boo really helps users when they are new to the tool. Boo has an array of features but not all users will need all of the features, you can manipulate the software as you see fit.

Pricing model(s)
They currently only offer monthly subscriptions. Users get unlimited access to the app and AI functionality.

Additional services needed:
No additional services are needed.

What makes Boo unique?
A.I. helps you get your job done faster. Boo helps complete tasks that aren't always peoples' favorite.

Characteristics:
Fast, minimalist UI: The creators wanted Boo to feel like magic. Anyone writing in Boo should feel like they're writing in a basic Notes or Docs app, but doing so faster than they do on their own, with higher quality output. We have some architectural overlap with GitHub Copilot (in how they generate suggestions), and want to achieve that level of UX, but for content writing instead of coding.