7 Mindsets offers a proven, research-based social emotional learning (SEL) solution that helps K-12 districts and schools create and sustain positive school cultures rooted in healthy relationships. The 7 Mindsets SEL program has been implemented with more than 1 million students across the United States and internationally. Studies have shown that the program improves academic performance and student behavior, lowers suspension rates, and increases student resilience and grit. Evaluations also show that students who participate in the 7 Mindsets program demonstrate higher levels of hope, improved mental health, positive ethnic identity, and adaptability.
The 7 Mindsets program nurtures the mindsets of both students and educators. The complete web-based K-12 curriculum has 13 ready-to-teach courses that work with both in-person and virtual learning schedules. The courses include video, discussion prompts, activities, projects, and reflective journaling activities for students. Additionally, expert coaching, leadership training, and professional development help educators teach the 7 Mindsets and apply them to their own lives.
By providing a common language of SEL beliefs, the program provides the consistency and structure to unite and inspire the entire school community.
Formats/platforms used:
The 7 Mindsets program offers a complete web-based K-12 curriculum with 13 ready-to-teach courses that can be configured to work with any school schedule for both on-site and virtual learning.
Primary website's URL:
Problem solved:
Districts are facing challenges with school communities' social and emotional wellbeing that can't be solved with SEL curriculum alone. Students are experiencing depression and anxiety at growing rates caused by unprecedented levels of bullying, academic pressure, and worldwide social and political stressors. Teachers face ever-increasing demands of their time and energy and struggle to find opportunities to connect with their colleagues due to these demands, leading to burnout and high turnover rates.
7 Mindsets is a proven, research-based social emotional learning (SEL) solution that empowers students and educators to live lives of purpose, passion, and meaning by positively changing the way they think about themselves and their future. By nurturing the mindsets of both students and educators, 7 Mindsets promotes core SEL competencies, such as self-awareness, self-management, social awareness, relationship skills, and responsible decision-making. With this program, schools and districts can create a positive cultural transformation, make meaningful connections, and a create an environment where everyone thrives.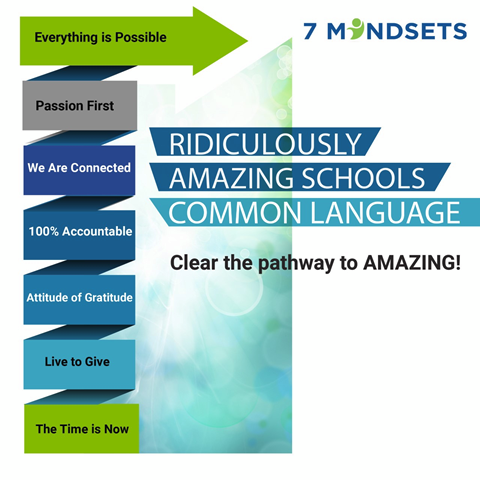 Grade/age ranges
The easy-to-implement SEL curriculum includes yearlong courses for kindergarten through grade 12. Each course is designed to be delivered by teachers in 30 minutes per week or less, and the curriculum is modular and adaptable for varying schedules and SEL needs.
Core/supplemental/special needs/extracurricular/professional development?
7 Mindsets targets ten social and emotional learning competencies for students. Five of these competencies––self-awareness, self-management, social awareness, relationship skills, and decision-making––are defined as SEL competencies by CASEL (Collaborative for Academic, Social, and Emotional Learning). The other five competencies focus more deeply on the mindsets-based approach of 7 Mindsets and include resilience, growth mindset, empathy, cultural competence, and hope. The combination of traditional SEL competencies with mindsets-based SEL competencies improves academic performance, student behavior, suspension rates, and works toward improved mental health, positive ethnic identity, and adaptability.
The 7 Mindsets program also presents valuable opportunities for coaching, leadership training, and professional development to the educators who are guiding students through the curriculum. SEL coaching helps leaders strengthen adult SEL while keeping everyone accountable, and professional development helps teachers reconnect to their passions, their students, and each other. With this training, educators are better able to teach the 7 Mindsets and apply them to their own lives.
Topics/standards:
What separates 7 Mindsets from other K-12 SEL programs is that nurtures the mindsets of both students and educators. Mindsets-based SEL focuses on attitudes and perspectives, rather than specific skills or habits, to provide the foundation for better decision making. The 7 Mindsets methodology is based a multi-year research effort into the world's happiest and most successful people. Researchers discovered that what these people have in common is how they think—their mindsets, which can predict and determine the levels of success and happiness that any individual can expect to experience in their lifetime. The 7 Mindsets are:
Everything is Possible
Passion First
We are Connected
100% Accountable
Attitude of Gratitude
Live to Give
The Time is Now
Lesson time needed:
7 Mindsets programs are intended for year-long use, and each lesson is designed to be delivered by teachers in 30 minutes or less each week.
Pricing model:
The 7 Mindsets curriculum and educator resources are available through an online portal. Schools and districts pay an annual subscription. Additional subscriptions are available for coaching and professional development to integrate social emotional learning across all school or district initiatives.
 
Additional services needed:
7 Mindsets' comprehensive SELECT SEL program includes self-paced professional development, SEL coaching, and resources.
From the start, the 7 Mindsets SEL program is anchored on a leadership development and coaching process. Leadership teams work with 7 Mindsets SEL coaches to make data-informed plans for their districts or schools, address challenges, and recommend improvements throughout the implementation process. The process begins with a culture and climate needs analysis to inform professional development and instruction plans. It continues with customized training, professional development, and enrichment sessions.
The 7 Mindsets portal includes a leadership dashboard with access to real-time data and analytics. This enables administrators to track and monitor progress so they can see what's working and what's needed for continued growth.
The educator course is based on the best-selling book, "Ridiculously Amazing Schools." The self-paced and group facilitated online professional development help educators develop SEL competence, improve implementation fidelity, and access ongoing support. Courses on equity build cultural competence in adults and students. Additional resources include best practices, teacher engagement modules, and tools to engage parents and community.
What makes 7 Mindsets unique?
Contrary to traditional SEL curriculum that teaches specific skills and habits, the 7 Mindsets curriculum uses a mindsets-based approach, which focuses on shaping attitudes and behaviors to create positive mindsets – in classrooms, throughout school buildings and across districts.
Characteristics:
As each district embarks upon its own unique journey, the 7 Mindsets team conducts a readiness assessment that identifies opportunities and focus areas. It works closely with the administrators and leadership team to understand their specific needs and create a customized implementation plan and objectives to meet those needs and deliver the desired results.
From there, the team adjusts the core 7 Mindsets training and identifies the best approach to guide the district to implement the SEL program with the highest level of fidelity and impact. To aid in the journey, the district is paired with an SEL coach who helps with implementation, instructional integration, program design, and resource sharing. The coach facilitates a community of practice by sharing lessons learned, success stories, and best practices for the benefit of all schools.
With the leadership team, the SEL coach designs a teacher training and support plan to ensure that teachers are ready, comfortable, and excited to deliver the 7 Mindsets curriculum in the most impactful ways — and apply the 7 Mindsets to their own lives. Online professional development is offered in the form of self-paced individual and facilitated group modules.
Here's what users are saying:
"Before selecting 7 Mindsets SEL curriculum, I was familiar with it and had already seen it in action. That's what made me believe in it. I would encourage anyone who is looking for a program to talk to a program rep and ask for a live demonstration of the platform. You may have to get creative and see it via a Zoom session with schools closed or operating in a hybrid model during this pandemic, but the extra effort will pay off when you can actually see the teachers and students using the program."
--Tessa Barbazon is Director of School Counseling and Social Emotional Learning, District PBIS Coordinator, and REACH Scholarship Program Coordinator at Clarke County School District in Georgia.
"To effectively promote both teacher and student wellbeing during this challenging period, we've integrated more social emotional learning (SEL) into our curriculum. We like the results so far. Using 7 Mindsets, we get to move beyond just knowing our students on an academic level and better understanding their diverse mindsets, backgrounds, and cultures. Equipped with these powerful insights, we can more effectively inject life skills and other non-academic lessons into the day-to-day learning."
--Chase Harman is an English teacher and LaTausha Bonner is a social studies/science teacher. Both teach at Columbus Arts and Technology Academy in Ohio.