For over 20 years, ReadSpeaker has enabled text on websites and digital content to be read out loud, making content accessible, engaging and more comprehensible. More than 10,000 education and industry applications in 70 countries use ReadSpeaker tools to read digital materials in a natural-sounding voice, through ReadSpeaker's browser extension or as tools embedded into the LMS and available throughout a school's learning ecosystem.
High-quality voices and added voice-enhanced learning tools, let students and educators (and any consumer of digital content) choose to use voice more often and in new ways. A student can 'proof listen' their own work or have an article or lecture notes read back to them while they follow along with the highlighted text, choosing to repeat it or to change the pacing. Non-native English speakers might translate study documents into their native language and then listen along. Or, if they are learning a new language, they might convert content to be spoken back to them. Educators can use the tools to seamlessly provide accommodations for tests, quizzes and assignments.
ReadSpeaker's advancements in voice technology and the options for using voice have opened a floodgate of new ways to engage with digital content.

Formats/platforms used:
ReadSpeaker text-to-speech can be used anywhere, any time, or on any device such as a computer, a tablet, a Chromebook, or an iPad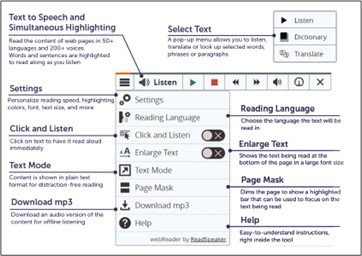 Primary URL:
https://www.readspeaker.com/education/

Problem solved:
Accessibility and Inclusion
While ReadSpeaker is a tool for everyone, there is an essential need to translate the written word to an audio format for those who require this accommodation. ReadSpeaker meets that need and by embedding it into the LMS, every learner has access to the same tools for whichever content they are accessing at the time.
Focus and Engagement
Text-to-speech technology supports bimodal learning, allowing students to combine two modes at the same time such as reading while the voice simultaneously speaks the same words. And while multi-modal learning is not new, it is proving to be a powerful tool to keep learners focused and engaged in increasingly blended learning environments and as people of all ages choose to interact with text in different ways.
Cost-Effectiveness and Budget Management
Installing ReadSpeaker at the LMS level is a cost-effective solution to support accessibility initiatives and accommodations. Administrators are using tools such as text-to-speech to lighten the workload on teachers and level the playing field for all students, in all subjects. The cost to purchase ReadSpeaker may be offset by grants for accessibility and various IEP accommodations requirements. (Read more about grants most often used to purchase ReadSpeaker here.)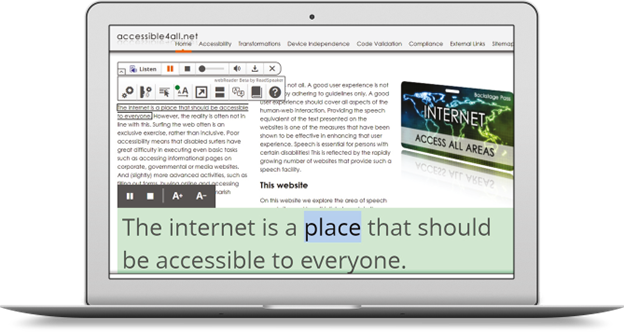 Grade/age range:
PreK-12, higher ed, adult learners, and digital content users of any age

Core, supplemental or special needs?
Originally developed as a tool to support those with learning challenges, ReadSpeaker's text-to-speech technology (TTS) ensures that all learners can engage with learning content in their preferred mode. In many instances, ReadSpeaker is embedded in the Learning Management System so that all of a school's learning content has text-to-speech capabilities, but it is important to note that many learners choose TTS tools as a personal preference. Accessing ReadSpeaker is on-demand, available whenever and wherever needed, and with many customizable features such as reading speed, highlighting preferences, font, size, colors and more; and the ability to enable a distraction-free "text-only" mode or "masking" to blur out the extraneous information on a page.

Standards:
ReadSpeaker can be used with any content or curriculum because it is dynamically updated. With LTIs and certified integrations, ReadSpeaker tools integrate directly into an LMS and work out of the box.
Text-to-speech helps learners remain at peer level in all subjects, including STEAM.
ReadSpeaker works with OER and eBooks. Extensions can be read outside the LMS and iFrames. ReadSpeaker is WCAG 2.2 compliant and SSO-ready.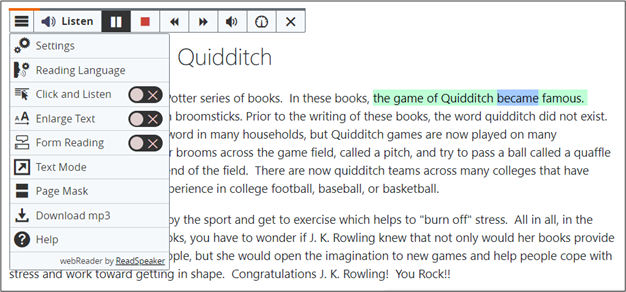 Lesson time needed:
ReadSpeaker is intuitive and requires no specific training to use. As a cloud-based solution, content is speech-enabled automatically and across the learning ecosystem.

Pricing model:
Pricing is based on FTE. Licenses are available for individual sites or for school or district-wide implementation.

Additional services needed:
ReadSpeaker offers various tools that can be used as a stand-alone product to enhance particular learning materials. However, it is common to see ReadSpeaker embedded into the Learning Management System, the most popular being Canvas, Moodle, Schoology, Brightspace, D2L, and Blackboard.

What makes ReadSpeaker unique?
ReadSpeaker can be natively embedded in an LMS, making it available to all – including students, teachers, and district staff – but also across all of the curricula, assessments and learning tools within the LMS without needing multiple log-ins. Students don't have to guess how ReadSpeaker's TTS functions operate. It is intuitive, has clear keyboard help and once understood in one learning application or platform, it functions exactly the same in the others. Nothing needs to be downloaded. No windows need to be opened. No new login credentials need to be entered. Its tools can be made available to all students and for any content including assessments, quizzes and tests delivered through LMS and with proctoring solutions.
ReadSpeaker provides the highest quality voices available. They are life-like and often indiscernible from a human voice. School districts can pick the voices and languages that best reflect their community. And, with ReadSpeaker's language lab, districts can even commission their own voice, unique to their needs.
ReadSpeaker has been voted the "Most Accurate TTS Voices" by Voice Information Associates. The company has over 20 years of experience specific to education and offers 245 different voices in 68 languages.

Characteristics:
ReadSpeaker is aligned with UDL (Universal Design for Learning) principles. The user interface is consistent across all features and can be adjusted to suit individual learner needs. Students can listen to the text, and use word lookups. They can enlarge text for easier viewing, set the reading speed of their preference, repeat sections as often as they'd like, highlight text and change font, size and color. There are even options to select distraction-free "text-only" mode or "masking" to hide extraneous information on a page.
ReadSpeaker user interface components are adaptable and distinguishable, clearly separating layout and structure, always with high contrast so that users see a clean and simple layout, but without the loss of information and structure.

Here's what users are saying:
"Knowing that we could use the ReadSpeaker tool to read aloud text to them because many of them are developing readers… we felt like that was going to be an important piece in what we could offer… it is a single tool that can meet the needs of a variety of learners… It has become an ingrained part of my school."
– JoAnne Glenn, Pasco eSchool, Principal of the Year 2020, Digital Principal of the Year 2020
"Ensuring that our courses are multimedia-rich and suitable for all learners is something that is central to our mission. ReadSpeaker was a natural fit. The Listen button gives all of our students an audio option… Within seconds, we enabled it on a course level and within all lessons, so VHS students can have all course web pages and documents read to them with one click of a button. Since implementing the technology, we've been encouraged by how popular it's been."
– Storie Walsh, Director of Instructional Technology, Virtual High School
"Our interest was for our online learners, but in reality, [we chose to use] ReadSpeaker for all learners. Even our professional staff love using ReadSpeaker. We hear from our counselors, who are our number one advocates of special services. They're the ones that are always telling our students, 'You've got to use ReadSpeaker.'"
– Beatriz Flores-Martinez, M.S., eLearning & Instructional Design Specialist at the eLearning & Instructional Innovation Center at Laredo College