Remind Tutoring, offering one-on-one online learning support from experienced tutors, is the latest addition to the Remind platform, a two-way, streamlined communication platform that helps students, families, teachers, and administrators share information in real time, anywhere, with any device. The Remind platform supports Chat, a two-way messaging app with automatic translation into more than 90 languages that is free for classroom use. Remind also offers Hub, a paid service for schools and districts that eases communication for everyone from the classroom to the central office.
Ease of use has attracted nearly 30 million users at 80% of U.S. schools to the platform. Because students and families are familiar with Remind, schools and districts can set up a high-dosage tutoring program without asking users to learn a new platform.
Remind's tutors have extensive teaching or tutoring experience and undergo a rigorous selection process. Sessions are aligned with classroom curriculum and personalized to individual students' needs. Students can count on having the same tutor throughout the learning process, which accelerates learning towards grade-level proficiency.
With Remind Tutoring, users can focus on math or English language arts. More information is available at Remind.com.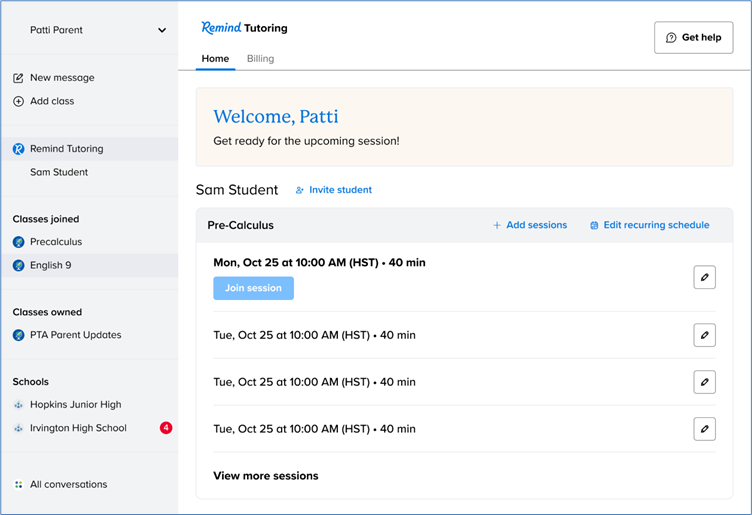 Formats/platforms used:
Remind Tutoring is available via any device with internet access.

Primary website's URL:

Problem solved:
Remind Tutoring offers students individualized tutoring from highly qualified tutors to help them meet their personal learning goals.

Grade/age range:
Remind Tutoring is available for students studying math taught in grades 2-12 and English language arts for grades 1-6.

Core or supplemental?
Remind Tutoring addresses the core subjects of math for grades 2-12 and English language arts for grades 1-6. Math tutoring is available for 2nd-6th grade math, pre-algebra, algebra, geometry, trigonometry, pre-calculus, calculus, AP Calculus AB, AP Calculus BC, AP Statistics, and statistics; ELA tutoring is available for 1st-6th grade reading and 1st-6th grade writing.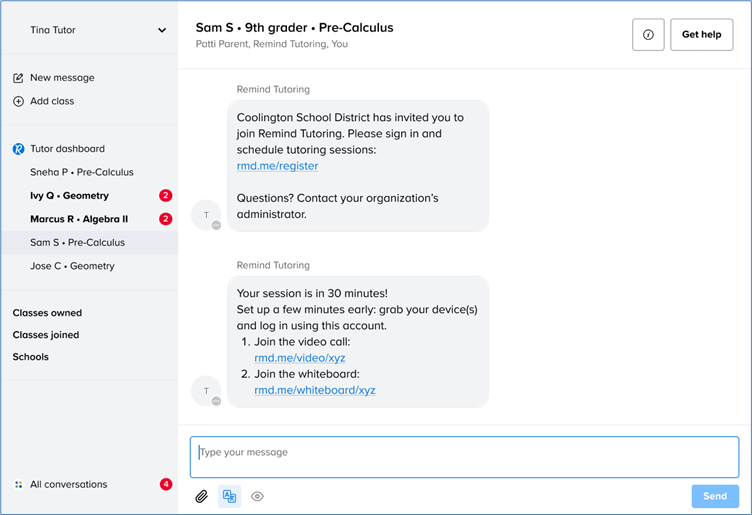 Standards:
Remind Tutoring for Math and ELA are aligned to the Common Core and individual state standards.

Lesson time needed:
Remind Tutoring is a supplemental resource for students who need individualized support beyond the classroom. It does not require any lesson time.

Pricing model:
For families, Remind Tutoring sessions start at $40 for a 40-minute session. For schools and districts, pricing is based on the number of sessions, the number of students, and the length of the program.

Additional services needed:
Users must have Remind accounts to use Remind Tutoring.

What makes Remind Tutoring unique?
Remind Chat and Remind Hub are already used by 80% of schools in the United States. To this extensive user base, Remind Tutoring is a familiar and trusted resource, even to many who have never used it. Online sessions with flexible scheduling make Remind Tutoring available to students wherever and whenever they need help. Remind's tutors all go through a rigorous interview, including subject exams and sample sessions, and most are licensed teachers.
Characteristics:
Remind Tutoring was developed based on more than two years of research and a decade of experience in supporting educators, students, and parents through Chat and Hub. Along with prioritizing meaningful relationships and connecting everyone involved with student learning, They aim to make the online tutoring experience familiar and intuitive: inspired by user behavior, simple to access and engage with, and designed to integrate seamlessly with a platform that millions of students and parents already use.

This is what users are saying:
"The tutor talked me through the problem, let me do it myself, and corrected where I needed. I felt confident going into the exam."
—Maaliyah, 12th-grader
"Our tutor really zeroed in on my daughter's needs. She felt at ease rather than being stressed about her exam."
—Nicole, Maaliyah's parent
"I loved my tutor's methods. She felt relatable and made me feel comfortable. I never felt like I was bad at math."
—Ariella, 8th-grader
"Ariella said that the sessions with the tutor have really helped her in understanding her homework lessons."
—Pamela, Ariella's parent