DisplayNote's Montage solution is a wireless screen-sharing tool that's made for the classroom. Whether it's a presentation, document or webpage—Montage makes it easy for teachers and students to share their screen to the main classroom display from any device.
Unlike other screen-sharing solutions, Montage doesn't require hardware, and there are no cables to manage. Plus, there are no network dependencies, meaning anyone can connect and share, regardless of their network.
To share their screen, teachers start a Montage session, where a unique session ID is generated. This ID is then shared with the class, who can join the session from any device via the DisplayNote app or their web browser. The session ID means only those with the ID can share their screen with the class. 
Since students can also share their screens, Montage creates a more dynamic classroom environment where content is both consumed and created by the students. Smart, built-in tools also allow the teacher to add annotations, control their PC from the whiteboard and invite multiple students to share their work. 
Platform/formats:
Teachers and students can join a screen sharing session via the DisplayNote app or the web app—meaning all devices can connect and share content.  
Primary URL:
https://www.displaynote.com/solutions/montage
Problem solved:
Since Montage is wireless, it untethers teachers from the front of the classroom, allowing them to teach from anywhere in the room. This means a teacher can enjoy more mobile instruction, walking about the classroom while controlling what is shared on the main display. This allows them to join the class from the perspective of a student, helping them be more available and connected with students.
Teachers also have peace of mind that whatever classroom they walk into, all they need to do is enter the unique session ID, and they are ready to start their lesson. This reduces setup time for each lesson, reduces connection issues and allows teachers to focus on what's important—teaching.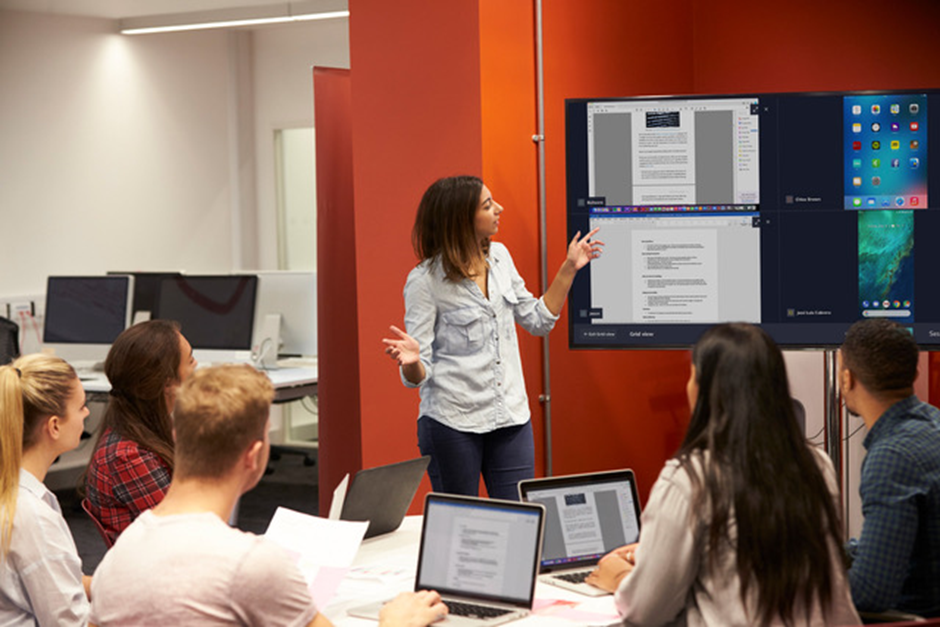 Grade or age range:
K–12 and higher education
Does DisplayNote address professional development?
Yes, DisplayNote's programs help support educators' instruction in the classroom. Not all schools can provide individualized equipment for each student. Montage, however, works with all devices; tablets, Chromebooks, laptops and smartphones. As 84 percent of teenagers own a smartphone, students without personal access to a laptop or tablet in the classroom can still share their content and contribute back to the class. 
Research indicates a positive relationship between student participation and learning outcomes. Montage encourages active, two-way learning by enabling students to share their content and ideas with the class, helping contribute to better student engagement. 
Subjects/standards:
Montage isn't mapped to specific subjects, topics or standards, but provides a platform for teachers and students to share content, ideas and knowledge.
Lesson time needed:
Once teachers are familiar with the software and the connection process, it should take less than a minute to start sharing their screen at the start of each lesson.
Pricing model:
A 30-day free trial is available. An annual subscription license model is priced at $99 per license per classroom and bulk pricing is also available.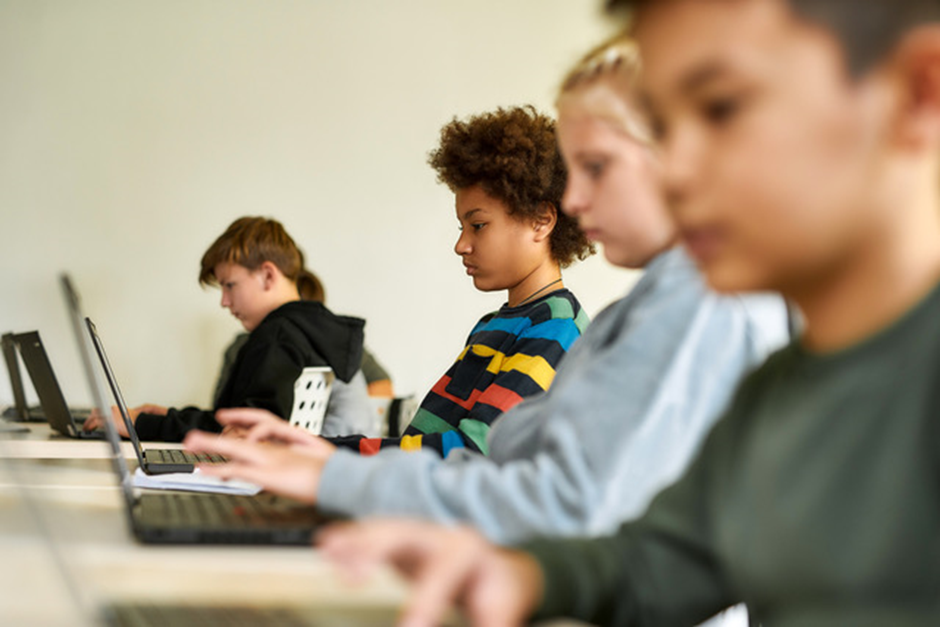 Additional services needed:
Product training and support are provided by a dedicated Customer Success and Support Team.
What makes DisplayNote unique?
Unlike other screen sharing solutions, users can connect  to the screen sharing session across any network from any device. Plus, as a software-only solution that can be deployed across existing classroom equipment, Montage allows schools to get more out of the equipment they already have.
Characteristics:
The main aim of the UI/UX is to allow for a quick and easy connection. Large, clear instructions allow anyone in the room to connect with ease. After a user is connected, the interface takes a backseat so the teacher can simply focus on what is important—the shared screen.
The instructional design principles center around how the educator plans an effective lesson. For example, "How can I organize the content effectively? How can I ensure that students stay engaged? How can I make sure that I'm getting my point across?"
Montage facilitates and supports them in this—primarily through easy presentation.
Here's what users are saying:
"The mobility you get with wireless presenting makes teaching more dynamic; the teacher can now be anywhere in the room with their device. This gives proximity to students at the back, which keeps all the students engaged with what the teacher is saying and doing. When a teacher joins the classes from the perspective of the student, it gives a sense of the teacher participating at the same level as the student. There are no more questions from students asking me to show something again."
– Esteban Nunez, IT Director, St. Bonaventure Catholic School
"DisplayNote has made screen sharing really accessible for our students, especially the younger students who have a lower grasp of technology…There's no complicated setup process for teachers or students; the technology is easy to use and easy to adopt."
– Britney Horton, Digital Coach, Denver Public Schools