Teaching Channel has joined forces with Learners Edge and Insight ADVANCE to form the new Teaching Channel, becoming educators' single source for graduate-level courses, professional development, video coaching, and classroom resources.
Offering educators a transformative educational experience with a look and feel as vibrant as its community, the new Teaching Channel provides:
● More than 180 graduate-level continuing education courses;
● Professional development programs;
● A regularly updated library of more than 1,500 exemplar classroom videos;
● A video coaching and mentoring platform, ENGAGE Feedback; and
● The K-12 Hub, which is full of learning resources for all educators.
The more than 750,000 teachers who have used the Teaching Channel now have access to more videos and professional development resources, graduate level courses, and the opportunity to connect with a learning community and to develop on their own terms. For administrators, Teaching Channel now supports improved teacher induction and retention, improved data analysis, increased reach, and a stronger and healthier school and district culture.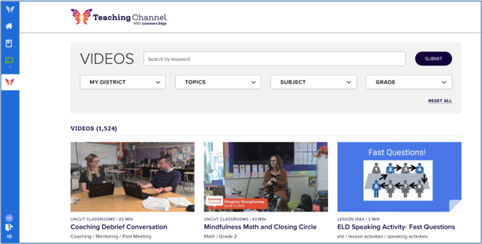 Formats/platforms used:
Teaching Channel is available via any internet connected device.

Primary URL:
https://www.teachingchannel.com/

Problem solved:
Teaching Channel increases teacher reflection, peer feedback, and coaching touches. Resources, including more than 180 graduate-level courses, professional development programs, a video coaching and mentoring platform, and a regularly updated library of more than 1,500 exemplar classroom videos, provide the support teachers, coaches, and leaders need to improve staff retention, teacher practice, and student achievement.

Grade/age range:
Teaching Channel is designed for use by educators in K-12 and higher education.

Core, Supplemental or Professional Development:
Teaching Channel addresses professional development.

Standards:
Teaching Channel provides professional development for educators looking to improve their practice regardless of subject, topic, or standard. Many Teaching Channel videos are tagged and aligned to the Danielson Group's Framework for Teaching.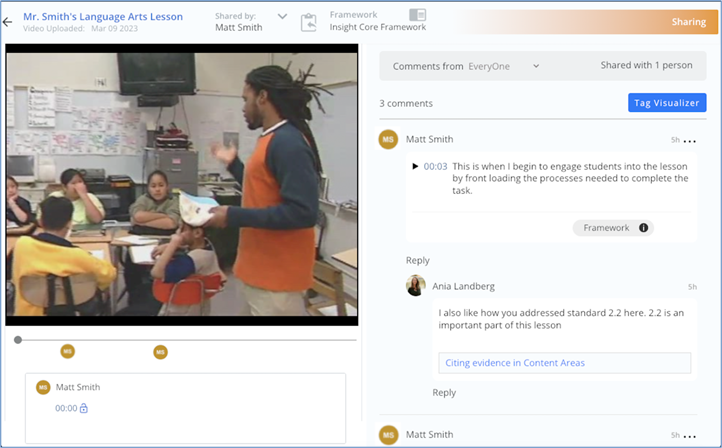 Lesson time needed:
Teaching Channel does not require lesson time and provides many self-paced learning activities for educators. Whether you have 15 minutes or 15 hours, Teaching Channel has the continuing education courses, classroom tools, and support to empower you to be your very best so your students can too.

Pricing model:
Pricing varies. Please visit teachingchannel.com to learn more.

Additional services needed:
No additional services are needed.

What makes the Teaching Channel unique?
Teaching Channel is a one-stop-shop for educators seeking to improve their practice. Featuring nearly 200 graduate-level courses, a coaching and mentoring platform, a library of more than 1,500 exemplar videos from real classrooms, and more, Teaching Channel provides everything a teacher needs to grow in one convenient place.

Here's what users are saying:
"Having already used their video coaching platform for six years, our district is excited about Insight ADVANCE and Teaching Channel coming together. In addition to creating our own library of exemplar videos, the Teaching Channel library provides thousands of classroom video resources to further support our teachers, lead teachers, and instructional coaches…Video coaching is now a significant lever for professional learning throughout our school district. The return on investment for using this platform has been tremendous. The entire district team is more reflective on practice, we have increased teacher retention, and most importantly, raised student achievement by improving the quality of instruction."
— Dr. Matthew Prusiecki, superintendent of Metropolitan School District of Decatur Township (IN)
"The robust repository of teaching videos was the first attraction to Teaching Channel. Name a subject, grade level, or instructional approach and Teaching Channel has a resource."
– Kevin Eakes, PhD Assistant Dean, Assessment & Professional Practice School of Education, Health, & Human Performance, College of Charleston