Millions of students, teachers, and lifelong learners across the globe use Vocabulary.com to master words and build a better vocabulary.
Educators use the platform's 16,500 learnable words, 321,000 questions and 13,000 ready-made vocabulary lists to expand students' vocabulary and boost literacy skills. Teachers access curated vocabulary lists that align with popular novels and textbooks. From social studies textbooks like America: Pathways to Present and literary staples like The Great Gatsby, Vocabulary.com's lists help educators assign skills to students based on what they are teaching.
Teachers and students take advantage of a range of learning activities: Flashcards quickly expose students to new words and empower them to learn independently; teachers use Practice sessions as short exercises that focus on a specific vocabulary list to test students on the multiple meanings of each word; and Vocabulary Jams engage students in live competition while teams vie to answer the most correct questions as quickly as possible.
Educators use the teacher dashboard to manage all of their classes, students, and assignments, making it easy to get started on Vocabulary.com. Teacher dashboards also provide powerful reporting on assignments and learning with data viewable by class and student.

Formats/platforms used:
Vocabulary.com can be accessed online from any browser or on our mobile app.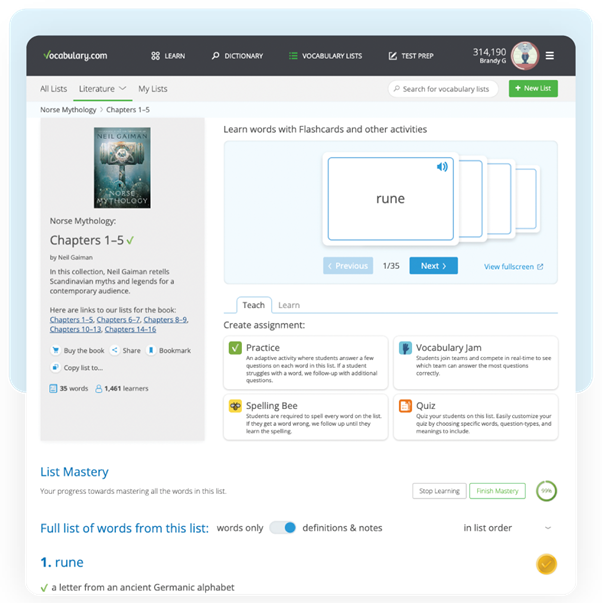 Primary URL:
Vocabulary.com

Problem solved:
Vocabulary.com helps students build broad literacy skills that are fundamental to success in school and in life—including reading, writing, listening and speaking.
Traditional methods of teaching vocabulary often rely on memorization, and are uninspired, one-size-fits-all approaches that are disconnected from core academic instruction. Instead, Vocabulary.com helps educators personalize literacy instruction by focusing on word mastery over mere memorization, so that students continuously develop skills to succeed in the classroom, on standardized tests and beyond.
Each student gets personalized instruction that is tailored to their unique needs and focused on closing their individual word gaps. Vocabulary.com's award-winning adaptive engine responds to students in real time, using each question they answer to evaluate their knowledge on a 20-level scale and adjust to meet their skills level. The platform also identifies the words that each student is having the most trouble learning and works with them until they achieve mastery.
By mastering words on Vocabulary.com, educators know that students have gained a deeper understanding of words and their core meanings in a variety of contexts. Since truly learning a word means going beyond memorizing a single definition, Vocabulary.com teaches words by systematically exposing students to a wide array of question types, real-world examples, and activities. This process ensures learners encounter words in multiple contexts and build knowledge of each meaning.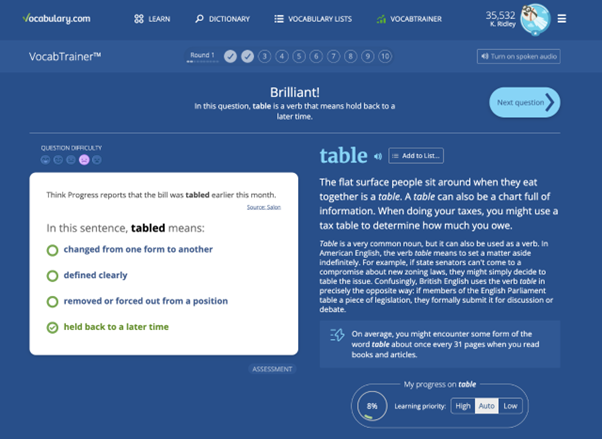 Grade/age range:
Vocabulary.com can be used by learners of all ages and education levels.

Core or supplemental:
Because activities are adaptive, Vocabulary.com can be used across student populations. It can be used for both remediation and enrichment. Our library of vocabulary lists align with curriculum in any subject, as well as extracurriculars. Vocabulary.com's lists are aligned to commonly used textbooks, popular novels, science and math topics, as well as special interests, like dance and sports.

Standards:
Vocabulary.com supports the development of vocabulary and literacy skills, and is aligned to the Common Core

Lesson time needed:
Vocabulary.com provides a personalized teaching and learning experience, so the length of lesson time may vary. However, educators can optimize instruction by choosing from curated vocabulary lists that help cut down on lesson planning time and provide personalized practice opportunities to students. Additionally, Vocabulary.com can be accessed at home or in the classroom, providing more opportunities for students to grow their skills. Vocabulary.com's flexibility allows students to begin mastering the most important and challenging vocabulary words as homework before in-class lessons.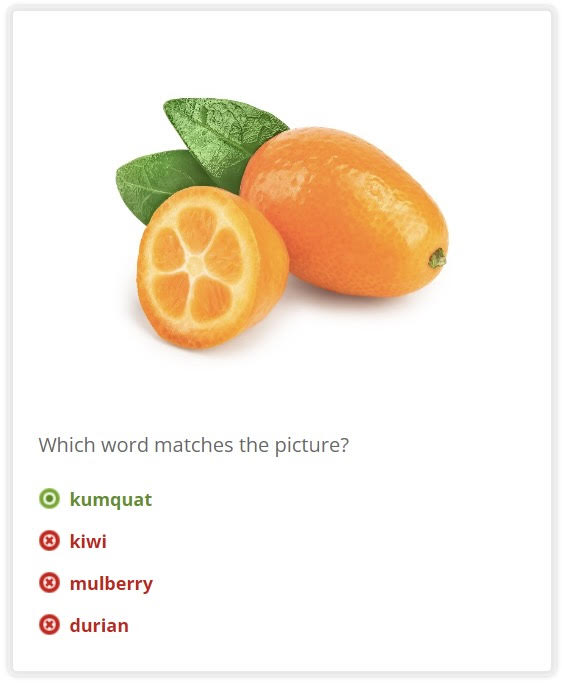 Pricing models:
Educators can purchase a site or classroom license to unlock all educator benefits. Learner accounts are free, and learner subscriptions are available to access unlimited learning.

Additional services:
Additional services from Vocabulary.com for educators include on-site and virtual professional learning experiences. These sessions are designed to equip teachers with in-depth knowledge and practical strategies that they can start using immediately to improve literacy skills. Engaging and interactive sessions are led by educators to give teachers the tools to get the most out of Vocabulary.com.
Vocabulary.com's PD team merges K-12 instructional experience with Vocabulary.com expertise. Their team of former educators has decades of combined experience in a diverse range of specialties including intervention, special education, blended learning, data-driven instruction, and curriculum development.

Characteristics:
One-size-fits-all approaches to word learning don't address each individual student's knowledge gaps or vocabulary level. Instead, Vocabulary.com's adaptive platform instantly assesses each learner's literacy skills with every question they answer and identifies the words that students are having the most trouble learning. The platform then exposes them to a wide array of words, question types, real-world examples, and activities to systematically develop vocabulary skills and help students achieve mastery.
Vocabulary.com's array of tools helps teachers and students improve reading comprehension and reading fluency, and all areas of literacy, to halt declining achievement rates. The platform is highly customizable for teachers, who use 13,000 ready-made lists or create their own resources from 16,000 words to differentiate instruction. Vocabulary.com also offers a range of learning activities, including practice skills, review opportunities, and self-grading quizzes, that create an easy-to-use, all-in-one solution that meets every educator's needs.
Vocabulary.com's resources deeply engage students and help overcome apathy toward learning. Since the platform responds to students in real time with questions based on their unique needs, students are always provided with relevant, interesting content. Additionally, Vocabulary.com's Vocabulary Bowl, Vocabulary Jams and VocabTrainer gamify instruction, inspiring students to learn.
Vocabulary Jams engage learners in live competition as each team vies for the most points by correctly answering questions as quickly as possible. These customizable competitions ignite excitement as students vie to show what they know.
With every activity, students gain points and achievements so they can level up in the ranks while building their word learning. Our gamified approach encourages students to flex their vocab muscles with daily exercise and inspires them to master more words, above and beyond what their teacher has assigned. Students can track their achievements to see badges that celebrate their word mastery, Vocabulary Jam wins, and total points across all their Vocbaulary.com activities.
Additionally, the ad-free Vocabulary.com dictionary features approachable definitions, engaging explanations, and images that make new words more interesting and easier to learn. We also source from thousands of texts to provide a variety of example sentences from news articles and literature. This real-world context helps students understand words' multiple meanings and a deeper understanding than mere memorization.

Here's what users are saying:
"Giving them access to the vocabulary ahead of time makes the reading easier, and then they actually enjoy it because they get it."
— Ms. Wiedmann, ELA Teacher
"Do we see results in our classrooms? Yes. We have seen our students become better readers, writers and communicators."
— Mr. Jaramillo, Etiwanda High School Principal
"Vocabulary.com tells me on my teacher dashboard which words my students are struggling with, so I can spend an extra minute in class reviewing those."
— Ms. McCants, Forensic Science Teacher