During global Brain Awareness Week, some seven years ago in March 2015, The Kennedy Forum convened experts at the Kennedy compound in Hyannis Port, MA to consider perspectives and review (then) recent findings on brain research. Representatives from the fields of neuroscience, pediatrics, psychology, mindfulness, neurocognitive behavior, education, healthcare, research, and technology gathered to explore ways to effectively convert brain health and fitness knowledge into high-powered tools for improving the well-being of the U.S. population. These experts agreed that focusing on early childhood development through neuro-supportive, school-based intervention models would maximize an investment in national brain health and fitness.
Even then, it was known that evidenced-based, brain-building activities are among the most accessible and direct routes to improving academic achievement and optimal mental health in our nation's youth, especially when reinforced throughout childhood and adolescence. It was believed that effective brain health and fitness interventions would play a key role in revitalizing school learning and American society.
While the evidence was particularly strong, traditional school models have been slow in adopting the recommendations that prioritize brain fitness interventions in children and adolescents; and schools of education, for the most part, have yet to teach brain science in a meaningful way to teacher candidates. The end result is that most educators don't understand the relationship between strong cognitive skills (fit brains) and learning, and most students underperform academically because they haven't received even the most rudimentary support for developing the organ that learns, the brain.  When the terms "brain fitness" and "brain health" come up, what will come to the minds of many educators is pathology. As a society, we are more aware of (and more accepting of) mental health issues, and there is widespread concern about the mental health issues that have been more prevalent in students (and teachers) since COVID. But we need to distinguish between brain disease and brain fitness in the same way that we understand the difference between physical disease and physical fitness.
Just being free of physical disease does not mean that we are physically fit for the challenges we want to take on. And being free of brain disease is not the same as having a brain that is fully fit for learning and study. The parallel is apt. When we think of physical fitness, we think of aerobic fitness, muscle strength, stamina and flexibility; these attributes are what help us engage in and benefit from healthful physical activity. The brain and learning corollaries are cognitive strengths – attention and focus, memory, reasoning and cognitive flexibility. Just as we can't kick a ball well without strong, toned muscles, we can't tackle a reading assignment or solve a math problem or apply social studies or science concepts without the cognitive fitness to do them.
When we think about physical fitness, what comes to mind for most of us is physical training. Perhaps we envision athletes on the field working through a routine of calisthenics. Or rotating through pieces of equipment in the gym. But what are calisthenics for the brain? That really is what the Kennedy Forum report was suggesting – that providing students with the tools to strengthen their basic learning skills, or cognitive skills, is the key to transforming school learning and American competitiveness.
There is a growing body of evidence that supports the impact that the right kind of cognitive training can have on students' academic performance. For example, in the 2021-2022 school year, a group of 7th grade students spent a semester (about 12 weeks) working in a comprehensive, integrated (think cross-training) cognitive development program delivered in a video-game format. The students had been chosen to participate in this program because they were behind academically and the typical interventions the school had tried didn't seem to accomplish much.
When these students took a cognitive test before starting to work in the program, it showed that their ability to sustain their attention was, on average, at the 22nd percentile. Their working memory (the ability to hold information in mind while they think about it) was at the 8th percentile on average. Their ability to learn and recall verbal information was at the 7th percentile.  
A little more information for context: These students were not classified as Special Ed, and their nonverbal reasoning skills were in the middle of the expected (typical or normal) range. These students simply arrived at school every day without well-developed skills in several areas that school counts on them having to function effectively academically. That is, they lacked brain fitness in certain areas.
After the 12 weeks of cognitive training (a daily 40-minute class), the students took the cognitive test again. Their sustained attention skills were now at the 48th percentile. Their working memory was now at the 52nd percentile. Their verbal memory scores increased from the 7th to the 22nd percentile. And academically?  Well, in the spring of 2022, the students took their annual state assessment. 90 percent of them improved their performance in either English Language Arts or Math. One -third of those (30 percent of the total group) increased a performance level (from Below to Approaching or from Approaching to At or Above Proficiency) in both subjects. Almost half (40 percent of the total) increased a performance level in one subject or the other and half of those narrowed the distance to the next level in the other subject.
Back in 2015, The Kennedy Forum suggested that a concentrated focus on brain health and fitness would improve the lives of Americans and restore our nation's status as a global frontrunner in education, ensuring prosperity for citizens and country alike.
They weren't wrong. The problem was, how do you get the nation to care? We've tried No Child Left Behind and Every Student Succeeds. We've tried measuring and assessing. We're tried increasing and decreasing funding. And the country still, on average, lags many other less affluent and less powerful nations in academic achievement.
Perhaps we should think back to what the United States did in the 1960s after Sputnik made it clear that we were not the frontrunner in space.  Perhaps what we need is another Moon Shot of sorts, with a similar lofty goal at the end of the decade.
The challenge is, what shall the goal be? It is (relatively) easy to stand before the country and suggest the goal of putting a human on the moon and returning him home safely before the end of the decade. But cognitive training is less well known. We dare say the average American isn't fully aware of the potential benefits of cognitive skills training to their children and their families. Still American parents do care about their children's future and the parents of 65 percent of them know that their child isn't reading proficiently at grade level. What if the moon shot was a declaration that the nation would double the percentage of students reading at grade level by the end of the decade? Not just increase a percent to two a year.  Double it. Times Two!
That's what happened with that group of 7th grade students who engaged in brain fitness training. The percentage of those students more than doubled, in just a year. In fact, we may know more about how to achieve that goal than we did about putting a man in the moon when President Kennedy announced the moon shot in 1961.
Perhaps cognitive training could be the fuel for Education's Moon Shot.
About the authors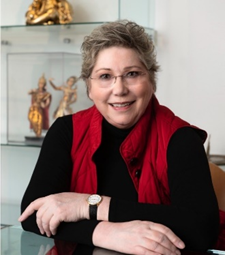 Betsy Hill is President of BrainWare Learning Company, a company that builds learning capacity through the practical application of neuroscience. She is an experienced educator and has studied the connection between neuroscience and education with Dr. Patricia Wolfe (author of Brain Matters) and other experts. She is a former chair of the board of trustees at Chicago State University and teaches strategic thinking in the MBA program at Lake Forest Graduate School of Management where she received a Contribution to Learning Excellence Award. She received a Nepris Trailblazer Award for sharing her knowledge, skills and passion for the neuroscience of learning in classrooms around the country. She holds a Master of Arts in Teaching and an MBA from Northwestern University.
Roger Stark is Co-founder and CEO of the BrainWare Learning Company. Over the past decade, he championed efforts to bring comprehensive cognitive literacy skills training and cognitive assessment within reach of every person, and it all started with one very basic question: What do we know about the brain? From that initial question, Roger Stark pioneered the effort to build an effective and affordable cognitive literacy skills training tool, based on over 50 years of trial and error through clinical collaboration. He also led the team that developed BrainWare SAFARI, which has become the most researched comprehensive, integrated cognitive literacy training tool delivered online anywhere in the world. For more, follow BrainWare Learning on Twitter @BrainWareSafari