One of the biggest challenges for education companies is scaling their products to the point that they can bring in enough capital to grow. Building a product that meets the academic needs of students is an excellent first step, but there comes a point where academics needs to meet economics. If you don't have the revenue to fund your growth, product roadmap, operations, or your ability to scale, even the most effective classroom tool won't keep your business afloat.
The most common way early- to mid-stage education companies try to increase their revenue is to launch a business-to-consumer (B2C) strategy alongside their core business-to-business (B2B) strategy of selling to schools. For many companies, however, an additional, more efficient path to increased revenue is adding an international B2B strategy.

B2B & B2C in the U.S.
Since American public schools have a yearly budget cycle, companies may end up spending as much as 14 months nailing down one contract from beginning of negotiations to deployment. School districts in the U.S. exist within an ever-changing kaleidoscope of federal, state, and local policies and requirements, meaning that during the year-plus negotiation and deployment, a company will often spend a significant amount of time and capital adapting its product to the specific policies, standards, and needs of a single district or school. Unfortunately, though, there's no guarantee at the end of the process that the budget will actually be there to pay for the product.
Expanding to pursue a business-to-consumer model by, for example, marketing to parents is the obvious solution for many businesses. Parents aren't bound by local, state, or federal laws regarding the academic tools they can provide their children. Individuals are capable of making buying decisions much faster than institutions.
Selling to individuals, however, means you have to market to them. You have to understand their needs, the hopes and fears that may interest them in your product, the challenges their children face, and their own challenges in helping their children. In short, you may make individual sales quicker, but in aggregate you'll end up investing far more time, energy, and other resources into each penny returned.

Taking Your Company Global
Companies that look to sell to large private school organizations outside the United States can generate an incremental revenue stream providing funding and stability as they break into more public schools in the U.S. For example, the various private school organizations we work with represent 50,000 students all the way up to four million plus students.
International private schools are likely to have more streamlined budgets, decision making and adoption processes than American public schools currently have. Additionally, these education organizations exist within a policy and an academic environment that is easier to navigate. Because they are private schools, they are less price-sensitive than public institutions, and parents are focused on academics, demanding that they receive the best education—and educational tools—possible, regardless of cost.
Pursuing this international strategy doesn't need to delay your domestic goals; instead, it's a great opportunity to bring in significant incremental and scalable revenue months, or even years earlier than focusing on a domestic strategy alone. In addition to increased revenue, a global strategy can bring stability by diversifying your revenue streams. If some policy shift in the U.S. caused schools to reevaluate their curriculum needs or relationship with you, for example, knowing that your deployments in the United Arab Emirates, Singapore, Malaysia, India, Mexico, Brazil, and other countries are safe will give you more leeway to adapt, whether to make sure you're in compliance with the new regulations or curriculum needs, or to make necessary updates and modifications.

What Tools Work Best in a Global Market?
The simple fact of the matter is that if your edtech tool helps students meet the learners or target market needs you designed it to help them achieve, domestically in the U.S., then there are several niches in overseas markets that would be a great fit with few, if any, modifications needed. Don't let the market you initially created your product for be a barrier to exploring possibilities internationally.
While a language barrier may occasionally be a concern, many international private school organizations don't mind a bit, as English is an important part of their curriculum or a government mandate. In some cases, our clients have even seen local governments or other organizations help them translate their tools into the local language for local public schools after seeing how effective the solutions were in private school settings.
That said, some products do find their place in global markets more easily than others. A core curriculum program, for example, would be a pretty tough sale. Very few schools are going to replace core curriculum that's already familiar to teachers and students and aligned and approved to local government standards and context in favor of something new and unknown, even if it's clearly a superior product. Supplemental resources and innovative tools that achieve student successes and bridge learning gaps, however, are well-suited to global sales because they can be folded in alongside what's already working or offered to students as a remediation or practice tool.
There are also some tools that scale better within or across certain regions. In Latin America, Asia Pacific and the Middle East, for example, Global Expansion Strategies focuses on providing English language learning tools, career acceleration / preparation, hard & soft skills, Social Emotional and virtual learning tools. These aren't just a great fit for Latin American, Asia Pacific and Middle East Schools, either. Nearly every student in K-12 around the world should be working in one or more of these essential academic enhancing categories.
The one feature that is probably the most important for edtech products to be viable overseas is an ability to be used in blended learning environments. As I mentioned, international schools are looking almost exclusively for supplemental resources and materials that enhance the learning outcomes. A key component of successful blended learning experiences is the ability to configure the appropriate blended learning model to meet the needs of schools and students by taking into consideration a whole host of variables. They want to be able to assign them as homework or assignments to be completed during or after school . They need the flexibility to be able to ask students to do this work anywhere, any time and in any place they can connect to the internet, not just in the classroom.
How to Get Started
For many business owners, the idea of launching internationally can feel daunting, particularly if it coincides with their domestic launch. They've worked so hard and sacrificed so much just to bring a product to market in America and now they have to prepare to launch in some country they may never have even visited?
Exploring international markets doesn't require a shift in mission or values, students globally have the same challenges as students domestically, it simply requires a shift in where the students you serve are located and working with the schools to embed the solution in any number of blended/hybrid learning models that best accommodate achieving the intended academic outcomes.
Here are a number of questions to take back to your team to gauge your readiness and aptitude for international education markets:
What is your current platform and server capacity? Can it scale to meet large enrollment numbers?
How well does your platform integrate with other LMS platforms?
How well is your company set up to conduct pilots in multiple locations?
Are your implementation and training services up to snuff?
Do you have a SaaS pricing model?
It can be intimidating, but don't let that stop you from reaching beyond the domestic market you are in. The opportunity to help more students and to scale abroad is closer than you may think.
About the author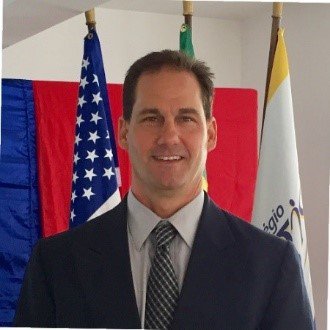 Michael E. Spencer is the CEO and Founder of Global Expansion Strategies, a Silicon Valley based international, advisory, growth and investment firm working with education companies to expand globally. Michael Spencer is an education executive with more than 25 years of global leadership, management, operational, business development and investment experience in the K-12 marketplace. In addition to serving as Senior Director of International Business Development at K12 Inc. and Senior Vice President of American Education Corporation, he has founded, co-founded and been a board member for numerous EdTech companies, including ASSIST Education, One2OneMate LLC, QuickPAD Technology Corporation, H45 Technology Corporation, and The Minden Group LLC. All achieved 100%+ growth year-over-year since inception, received multiple awards for innovation and led to A and B rounds of funding as well as successful exits. His expertise spans from developing international strategic channel partnership, targeting the private, public, virtual, charter education sectors to the development and implementation of large scale blended / hybrid learning models for global school operators. He has published numerous articles on international expansion and blended learning models all highlighting the benefits, economic impact and achievement of optimum student outcomes when going global.