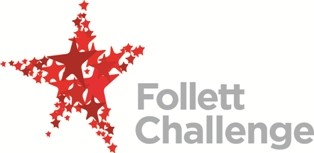 MCHENRY, Ill. – The $200,000 Follett Challenge returns for a fifth year and again will highlight and reward the most innovative K-12 programs that teach 21st-century skills to students. The 2016 contest launches Monday (Nov. 2).
All K-12 schools/districts, public and private, in the U.S. and Canada are eligible to apply. Submissions are open to all K-12 educators and Parent Teacher Organizations. It was a librarian whose entry won the 2015 Follett Challenge and she won't soon forget the moment.
"Hearing our name called was one of those rare moments when you feel like everything you have been working toward has been accomplished, and it is a wonderful feeling," said Tasha Squires, librarian, O'Neill Middle School in Downers Grove, Ill. "It was the culmination of a year's worth of work for me from getting the idea to creating it and implementing it, to entering the Challenge and then gaining the support of an entire community."
With $200,000 available in products and services from Follett, the contest's three semifinalists each will earn a $30,000 prize. The grand-prize winner, to be selected from the three semifinalists, will earn an additional $30,000, for a total of $60,000, plus a celebration at their school. Ten $8,000 prizes will be awarded to "People's Choice" winners — those schools that receive the highest number of online votes from the public for their submitted videos. More than 243,000 votes were cast last year, an 800 percent increase from the Challenge's inaugural year in 2011.
In past years, the Follett Challenge has seen winning programs in reading, math, service learning, project-based learning, and more.
"The Follett Challenge promotes innovative educators who are engaging learners and promoting deeper learning by creating scalable programs that support critical thinking, creativity, collaboration and communication," said Sue Adelmann, vice president of market intelligence for Follett School Solutions who has been a Follett Challenge judge since the contest's inaugural year. "It is tremendously exciting and brings the school, district and its community together, as we saw most recently in Downers Grove."
Adelmann added there is a tremendous amount of resources on the Follett Challenge website to help entrants get started when they're ready to move forward with their entry.
To participate in this year's contest, entrants must complete an online application and upload a three- to five-minute video describing their program. The judges will be seeking applications that illustrate critical thinking, communication, creativity and collaboration between students and among teachers and other members of the school staff. Eighty percent of each entrant's score will be based on the judges' opinion of the entry, with the remaining 20 percent based on the number of votes generated for the school's/district's video.
Key contest dates are:
• Nov. 2, 2015: Contest formally launches on www.follettchallenge.com, and entries open
• Jan. 29, 2016: Entries close
• Feb. 8, 2016: Voting begins
• Feb. 12, 2016: Voting closes
• March 7, 2016: Semifinalists and 10 video winners announced
• April 29, 2016: Grand-prize winner announced
For more information on the Follett Challenge, visit www.follettchallenge.com.
About Follett's PreK-12 Business| follettlearning.com
Follett is the largest provider of educational materials and technology solutions to PreK-12 libraries, classrooms, learning centers and school districts in the United States, and a major supplier to educational institutions worldwide. Follett distributes books, reference materials, digital resources, ebooks and audiovisual materials, as well as pre-owned textbooks. Follett also is one of the leading providers of integrated educational technology for the management of physical and digital assets, the tracking, storing and analyzing of academic data, and digital learning environment tools for the classroom focusing on student achievement.
About Follett Corporation | follett.com
For more than 140 years, Follett has been a trusted partner to pre-K and K-12 schools, districts, and college campuses, taking care of the critical details that make it easier for schools to run, teachers to teach and students to learn. Every day, Follett serves over half of the students in the United States, and works with 70,000 schools as a leading provider of education technology, services and print and digital content. Follett is higher education's largest campus retailer and a hub for school spirit and community, operating more than 1,150 local campus stores and 1,600 virtual stores across the continent. Headquartered in Westchester, Illinois, Follett is a $2.6 billion privately held company.