Kahoot!, the game-based learning platform and one of the fastest growing learning brands, today launched Kahoot! Studio, a new unit that will offer a library of ready-to-play, curriculum-aligned, and high-quality original Kahoot! game collections. The games will be offered primarily to K-12 teachers and students. Original kahoot games will also be created for "edutainment" for the general public.
Kahoot! Studio for educators
To start, Kahoot! Studio will offer Kahoot! curated ready-to-play kahoot games for grade K-12 teachers and students within popular content areas such as math, science and ELA (English Language Arts).
For a long time, busy teachers have asked for access to high-quality pre-made kahoots to use in the classroom, in order to facilitate playing of Kahoot! more frequently. While Kahoot! offers a library of 20 million public kahoots created by Kahoot!'s 50 million+ user community, time-strapped teachers are looking for an expanded array of ready-to-play learning games that meet the quality and curriculum standards of the U.S. K-12 education system.
"We have been waiting for this kind of offering from Kahoot! and are thrilled that the company cares about teachers' needs," said Nikolas Chatzopoulos, Math and Science teacher and Director of Innovation at Plato Academy in Florida. "While a vast collection of public kahoots already exists on the platform, sometimes teachers are looking for ready-made kahoots to review with students, keep them engaged and increase learning. With this service, Kahoot! shows it is now a mature platform, and ready to take something it pioneered and elevate it to bring student and teacher support to the next level."
Starting today, teachers can find original kahoot games, created by Kahoot!'s team of K-12 experts, by simply logging into Kahoot! (www.kahoot.com), clicking on the subject on the start page and choosing a relevant kahoot. Teachers will also be able to duplicate and customize the kahoot games as they see fit.
"Kahoot! is at the intersection of education, technology and entertainment and we felt that we had a responsibility and duty to offer original content in order to make the lives of teachers much easier," said CEO Erik Harrell. "Teachers have told us that they don't always have the time to produce their own content and this was the ultimate impetus behind Kahoot! Studio. Kahoot! Studio aligns very well with our mission to unlock the deepest potential of all learners and make learning awesome, enabl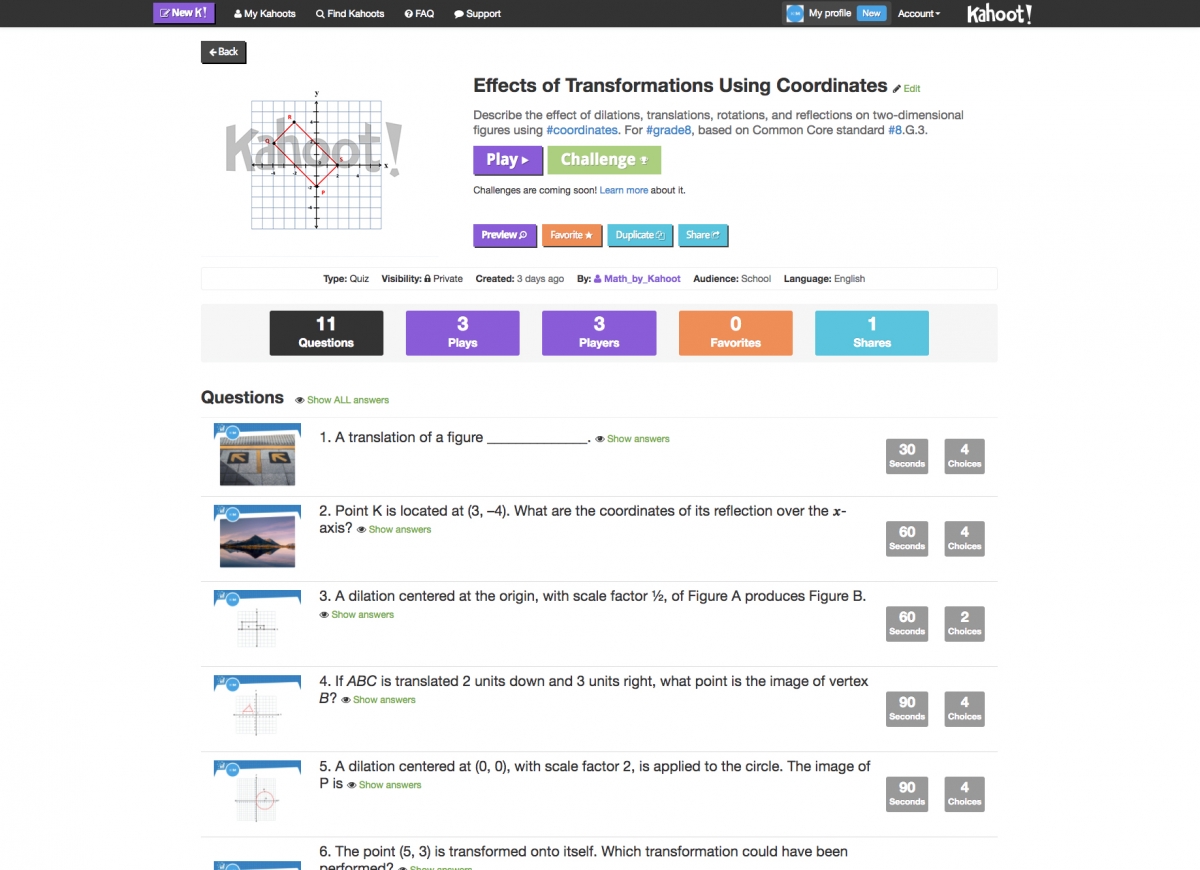 ing and empowering more and more teachers to play Kahoot!  with their students."
The first collection to be released is the Kahoot! Math collection, which will include K-12 kahoots aligned to the U.S. Common Core Standards in popular math topics such as Algebra, Fractions, and Geometry. These kahoots can be played directly or edited, if needed, to match other specific standards or needs.  
Going forward, Kahoot! will continue to add more grades, topics and standards-aligned kahoots every week to build a robust library of ready-to-play kahoot games -- all of them for free!
In the coming weeks, teachers will be able to see collections for Math, Science, ELA (English Language Arts), History and Geography, all aligned with U.S. standards for grades K-12.
Kahoot! plans on adding up to several hundred kahoots to the Kahoot! Studio library by the end of the year and even more in 2018. In the future, Kahoot! will work with publishing partners to expand the library of kahoots on the platform.
Partnering with entertainment and content companies
Kahoot! Studio also plans to launch high-quality kahoots in partnership with well-known entertainment and education brands in the future. These kahoots will be appropriate for use not only in the classroom but for other contexts and user segments as well. These Kahoot! games can be played by anyone who wants to have fun while learning and will cover topics that appeal to a universal audience.
"While we will focus Kahoot! Studio on teachers and students at first, we want to expand Kahoot!'s reach and appeal to a wide audience by launching original, fun, game-based content that is also entertaining and engaging for audiences beyond the classroom," says Harrell. "We are excited to partner with entertainment and content companies in the future to bring these kahoots to game lovers worldwide."
Kahoot! Studio games can be found on the Kahoot! platform start page starting August 30: https://create.kahoot.it/#discover
To access the Math collection, the first one to be released, go to https://create.kahoot.it/profile/math_by_kahoot
Content providers interested in cooperating with Kahoot! Studio can find more information on https://kahoot.com/partners/studio or get in touch with Kahoot! at partners@kahoot.com.