When curriculum lives in the cloud and every student has a mobile device, learning can happen in environments that range from the high-tech to the laid-back. Schools on a budget are even repurposing old furniture into new shapes and configurations. Architects and school leadership are breaking down walls, opening ceilings for sunlight, changing colors, adding sound baffles, writing on walls and encouraging transparency (as in clear partitions).
Let's look at how educators are combining hardware, software, and creative design to personalize learning for today's digital natives. 
Ithaca City Schools: Designed to Support a "Thinking" Strategy
Dr. Luvelle Brown is the Superintendent at Ithaca City School District in upstate New York. He's been to the White House and was named as one of the nation's most "tech savvy" school superintendents in 2014. But his strategy is far from the "techy" plans that you might expect. The focus in his district is building thinkers. He asks the question of his school leaders and instructors, "How do we educate in 2016 to engage, educate and empower so as to create thinkers?" His question naturally lead to the conversation about technology and the evolution of the classroom.
"As we talked about how to do this, how to promote skills like collaboration, problem-solving, creating and analyzing, it required us to change the spaces," said Brown. "We have many spaces now with writeable walls, writeable desktops, and flexible seating options. Kids are not sitting in rows in desks and chairs anymore, they're sitting in flexible seats, seats that move, tables that transition."
In Ithaca schools you'll see students creating on walls, they're working in digital spaces, using digital tools and mobile devices.  "The color, the look, the feel can be shocking at times," said Brown. "For the teachers who were very successful in the school district many years ago to come back and see it now, they wonder 'Wow, that's not the place that I went, where I was so successful.  It looks very different now' and the conversation has been about how to be comfortable with it looking so different."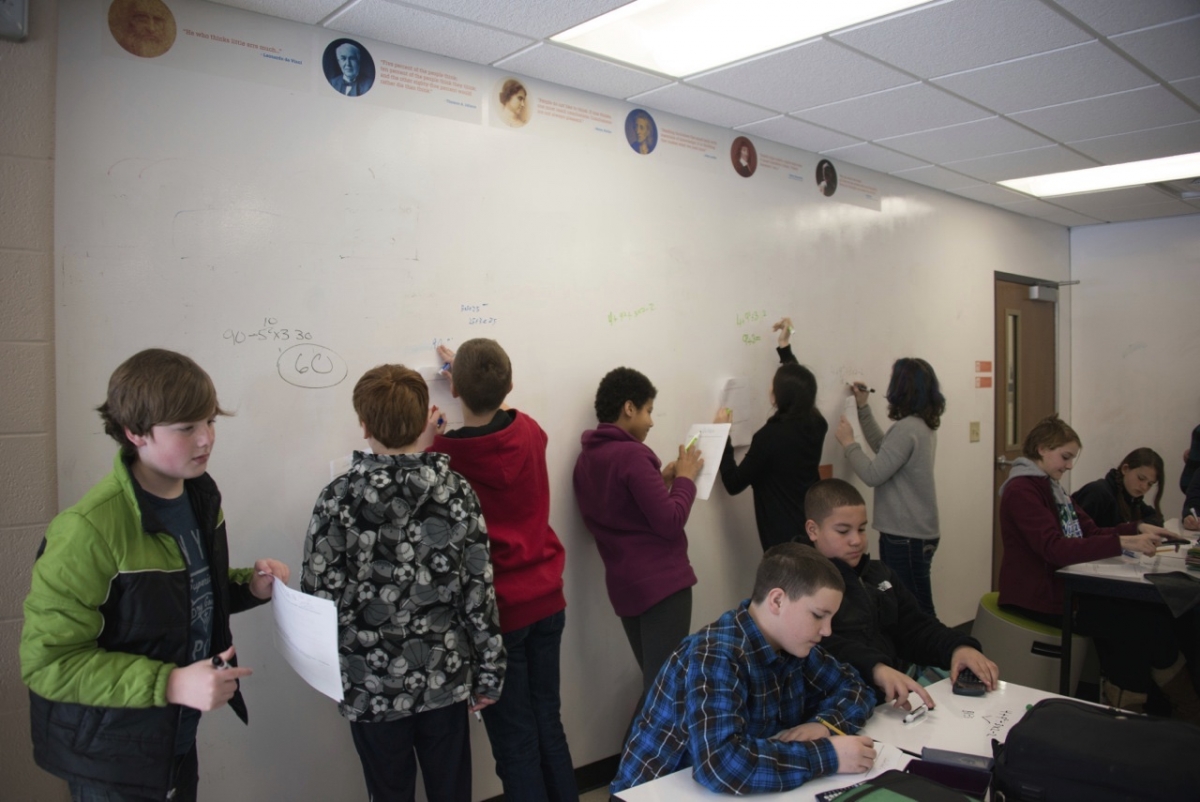 Dr Brown has talked with architects about the design of schools and discussed the common trends that are now the expected: sun lighting, how the sound is being handled with baffling systems, the look, the feel and color, all which promote learning. But beyond the architects they also surveyed their students and teachers to inform them of what they feel the spaces should look like and without spending a lot of money. They've used various furniture suppliers and Idea Paint for the walls but it's not only new materials. "We even repurposed old furniture," said Brown. "The kids will make their own chair or desk in a shop. And we've bought hundreds of yoga balls for classrooms. It's more about the pedagogy. How we want to shift the teaching/learning process and then it's the tools, i.e., the mobile device or the table or chair, which support that. And we've had that conversation again with architects and they've been helpful in helping us design these spaces with all this taken into consideration."
Ascension Public Schools: Mirroring Success
At Lake Elementary School, part of Lousiana's Ascension Public Schools, Morgan Hutchinson's 6th-grade social studies classes are totally techified. Each of her students has an iPad, and Classflow software connects all of the tablets to a Promethean ActivWall, a 102-inch wide interactive learning system that makes your usual whiteboard look like a Post-It note.
You might think that having such so many screens in the classroom would leave students isolated in their own little worlds, but Hutchinson says that the effect is just the opposite. Her classroom "allows for constant interaction and assessment of your students. Grouping, polling, on-the-fly assessments that you can send to certain or all students. It definitely keeps the kids on their toes."
Hutchinson most often uses the Mirroring feature, which allows students to share their screens to the ActivWall. She explained, "If I were to ask the students a document-based question with the text and question on the board, when the students submit their answers I can choose a strong model to share with the class simply by allowing that student to mirror their response." And, she added, "Interactive activities and assessments can be delivered and graded in real time, throughout the lesson. As educators we know time is not usually on our side, so these quick tools of assessment are a huge help."
At Dutchtown Middle School, also in Ascension Parish, Glenda Mora uses a similar set-up to teach 8th-grade math. She's never the only one teaching in her classroom, though. Thanks to the tech infrastructure at their fingertips, she said, "The students are the ones running the class." Each day, a randomly chosen student becomes the "teacher" who calls on students to mirror their work on the board for the class to discuss. Mora said her students have "become accustomed to sharing their work, whether they think it is right or wrong. Because if it is wrong, they know they will get feedback that will be meaningful to them."    
The network of connected screens also allows Mora to "see my students' thinking in an instant, which lends itself beautifully to math problems." She recalled a recent assignment on the Pythagorean theorem. One student used the Mirroring feature and "sent up a video of her working out the problem and also her 'thinking' while she was working. She said things like, 'When I read that the farmer had to go through the field, I knew that meant that route was the hypotenuse and it would be c in my equation.' She taught the class for me that day. In an instant, the others knew how to solve the problem but most importantly, how to think about solving the problem."  
Wisconsin's Connects Learning Center: A "Home Away From Home"
For Stacey Adamczyk, the lead teacher at Wisconsin's Connects Learning Center (CLC), a four-district consortium alternative high school for youth at risk, "Creating th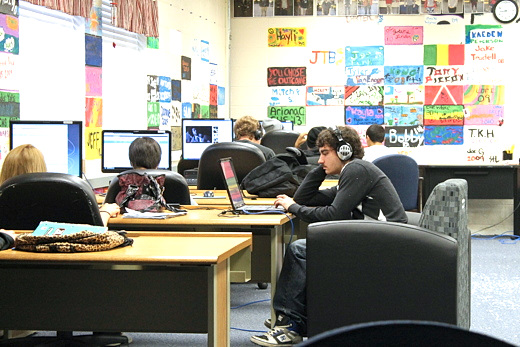 e right learning spaces for these students to thrive in has been an integral element to our students' success." The school started with students sitting at desks, but with no assigned seating. 
Through trial and error, CLC's learning spaces evolved to become less like traditional classrooms and more like a "home away from home," according to Adamczyk. "Much like college, our learning spaces are filled with comfy couches, chairs, and lounge furniture for student use, as well as areas conducive to collaboration." These shared spaces create a sense of community and give CLC's students "the feeling that they are not alone, that they belong."
Using cloud-based curriculum from Odysseyware, CLC couples its non-traditional spaces with a non-traditional daily schedule. "We operate two three-hour sessions per day," said Adamczyk, "with 80% of student time being spent working individually online. Thanks to the flexibility of Odysseyware, our teachers are able to create and customize online courses and content based on students' individual needs."
Courses focus on applied knowledge, creative problem-solving, and decision-making. The synergy of software and space, Adamczyk said, "allows our students to find their ideal spot for learning, and to learn at their own pace."
Des Plaines School District 62: Classrooms as Living Laboratories
The digital transformation of Des Plaines School District 62 (IL) started with a question: "How much collaboration can truly be done in a traditional classroom, with its rigid rows of desks and chairs?"
According to Assistant Superintendent Dr. Jan Rashid, seeking an answer to this question led district leaders to envision their classroom of the future. "We dreamed of creating open and colorful spaces equipped with ergonomic furniture, breakout rooms, and the equal opportunity to use the newest technology. We also wanted spaces to bridge the gap between the traditional library and the technology-filled classroom."
To make that dream a reality, the district, which includes eleven schools (one K-8, two middle schools, and eight elementary schools) created a five-year master plan to transform one room in each of its schools into what it calls Technology Integrated Learning Environments, or TILE spaces. The TILE rooms are "living laboratories" where each teacher and student has equal opportunity to engage and collaborate using the newest technology available.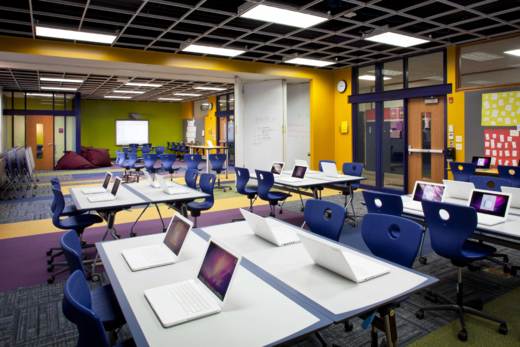 Walk into a TILE space and you'll see two interactive whiteboards, tablet computers, floor-to-ceiling marker boards, and tackable walls to inspire creative thinking and collaboration sessions. Wherever possible, the district used glass walls to let in natural light and created breakout spaces where students can work in small groups. Each room is also equipped with colorful, versatile, and mobile furniture such as ergonomically correct chairs that have been shown to improve cognitive engagement.
To make sure that Des Plaines' students are making proper use of all the online learning materials at their disposal, the district emphasizes digital literacy. "As students and teachers transition from paperback books and encyclopedias to online resources, we've discovered digital literacy doesn't come naturally," said Rashid. "Our media specialists and teachers use a co-teaching/co-planning model to serve our digital natives and teach digital literacy."
To help students fine-tune their digital literacy skills, the district equips them with an entire library in their backpacks. With myON, a digital literacy environment offering more than 10,000 books, Rashid said, "We harnessed the power of the digital library by creating and sharing digital bookshelves on diverse topics and at various Lexile levels."
The transition to digital in today's classrooms provides more opportunities than ever to individualize learning opportunities for every student. "We know that learning occurs wherever and whenever our children happen to be – and if we want to help guide that learning we need to be there, virtually or in person," said Todd Brekhus, President of MyON. "Digital technologies like those that underpin the myON personalized literacy environment offer guidance along with choice. Children take ownership over their reading, becoming vested in learning to read, so they can cultivate a habit of reading to learn that lasts a lifetime."  
The next phase of Des Plaines high-tech makeover is to create "green rooms" where students can collaborate on the creation, recording, and editing of videos. A green room opened in one school this year and more are in the works, but Rashid's vision goes beyond mere physical spaces. She wants to update not just spaces, but thinking. "Shifting the thoughts of administration, teachers, and students into the future will better prepare students for their future as learners who carry these skills into their professional lives and eventually go on to mold the future of technology use."
Story excerpted from the latest Learning Counsel special report: Remodeling for Digital Curriculum.