Horizon Room


What is The Horizon Room?
The Horizon Room is a live webcast for educators to come together to share challenges, solutions and innovations, or just bounce ideas off other like-minded professionals. Basically, it's about everything on the immediate horizon for schools...hence the name.
Join the host, Chris McMurray, and leaders in education from across the country in this live webcast that brings together research, industry experience, partnerships, and connections to help educators navigate what's on the horizon and learn from each other.

Horizon Room Season 1 – Honest discussion and experience from leaders in the field around some of the basic issues educators must tackle to make the transition from traditional models of school to what's needed to prepare our students for the future. In the first season of The Horizon Room, we go from tech systems and infrastructure to wrangling the wild west of apps in the ecosystem and everything in between.
Season 1 Recordings
Ep 1: Research Briefing on Leadership Priorities for Fall 2022
Ep 2: Managing Devolution and the Teacher Shortage
Ep 4: What are Hybrid Logistics and Hybrid Hyflex Models for Schools?
Ep 5: Lessons from a Peanut Butter Cup: Teaching and Tech Must Go Hand in Hand
Ep 6: Master Schedule Flexibility to Attract and Retain Students
Ep 7: What is the K12 Process & Tech Model Architecture?
Ep 8: K12 Digital Inventory Issues
Ep 9: Selective App and Process Retirement


NEW! Horizon Room Season 2 - Welcome to The Horizon Room Season 2. In this season we're continuing the journey with leaders in education and providing experience and learning around critical mindset shifts necessary to remain relevant in today's evolving definition of "school." We'll jump in with an examination of Digital Arts and Sciences as it relates to the survival of our schools in the information age and then follow pathways to address transformational change from a range of perspectives. 

Season 2 Recordings

Ep 1: Guess What, Coding is Core
Ep 2: Transformational Change at the Speed of Coaching
Ep 3: What's the Real Solution to Our Teacher Shortage?
EP 4: From Innovation to Outcomes and Everything in Between

Season 2 Upcoming Live Webcasts

Season 2, Episode 5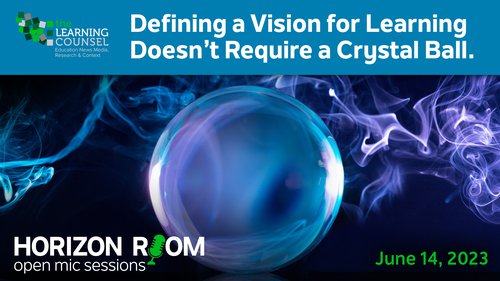 This isn't magic, but without a clearly articulated vision for a learning organization, efforts become fragmented and less effective. Plus, it's just frustrating to know that while all the discrete pieces of work are worthy, they seem disjointed and forward progress is difficult, if not impossible, to measure. Well-crafted visions show up in successful schools in roadmaps, graduate profiles, and strategic priorities which then are evident in the cohesive work done throughout the system. Join us in Episode 5 as we learn from school leaders that have articulated a vision that is working. What are the steps and where do you start?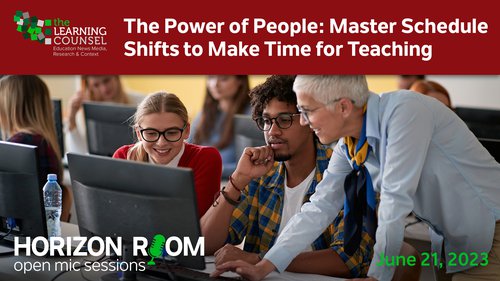 We all know the block schedule, maybe even an A-B weeks and an A-B days schedule complete with multiple tracks. So complicated and yet so purposefully classroom-and-staffing-centric.  If you read any of the guidance around scheduling the movement of teachers and students through their learning day, you've seen the process start with teachers and courses rather than learning time. Perhaps a nuance, but in practice, can mean the difference between a rich learning experience and an impersonal routine. In our push to move away from ineffective industrial models of school, successful schools are using time to their advantage, creating mashups of previously sacred class times, and making way for flexibility, personalization, meaningfulness and learner agency. This episode digs into scheduling shifts that can not only enrich student and teacher experience but alleviate some of the staffing issues our schools are facing today and into the future.