In this segment of the National Gathering, the Learning Counsel recognizes surveyed teachers who have made significant advancements in their digital knowledge. You can see, below, the levels available for educators to aspire. This year, The Learning Counsel recognizes educators in four of the available Teacher EduJedi Levels. According to Learning Counsel CEO LeiLani Cauthen, "The ACE level is the beginning level and we have many ACEs this year. This is the first time we've surveyed teachers, but they're a digital point of light with courageous use of new technology. It's a powerful statement, because you know, there's still a lot of teachers who want to go back to "normal." They want to get rid of all the tech again and they don't like it. So ACEs are that cut above right there. And then the Adepts, they're actually doing what we could see is lesson plan sequencing of various tech and apps and subject screen top. So they've started to weave things together. A Guide is having their attention on the user experience with all of their different stuff that they're put together. Then a Padawan is actually really zeroing in, on using the force. And this is where we are on the EduJedi terminology they're blending the human instruction in much more perfectly, and we had some Padawans this year. So we were very excited about that. We don't have any Scholars, Maestros or Warriors yet, but that's to be expected, because there's not a lot of teachers out there that are hybrid instructional designers.
You'll see the teacher award winners announced. Each of the awards is prestigious in its own right.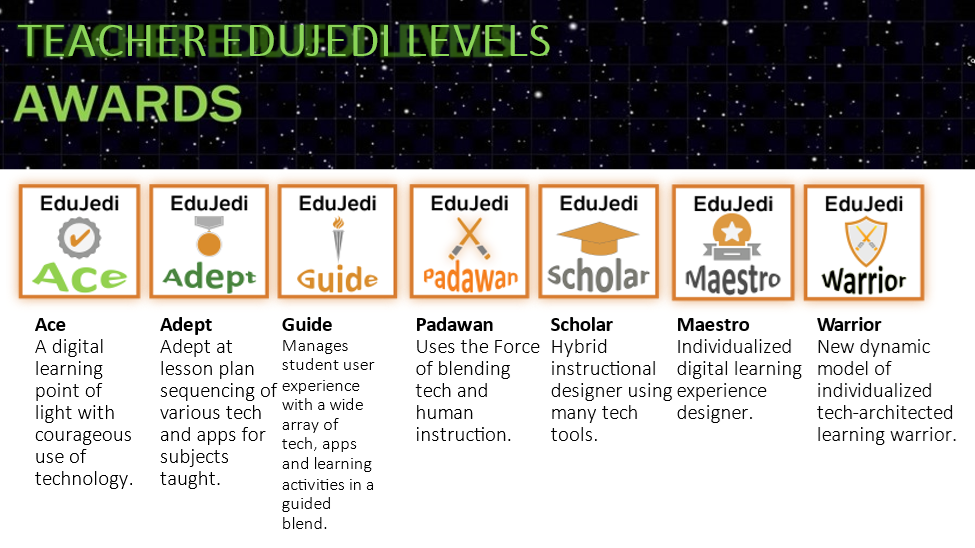 In the 2nd part of this video, Cauthen announces the awards for schools and districts. According to Cauthen, "Here are the school and district levels:  Members, every Member has courage with technology, Gainers,  have intentional EdTech tactics and strategy, Innovators are trend-aware utilizing digital systems, Achievers are digital learning experts actually increasing student achievement. There are only four Knight districts. There are no Masters or Grand Masters districts yet that we can see. And really that's because the demarcation line between Knight and Master is a true logistic shift where they're moving really to a high flex hyper logistics model where it's individual pace and change of how they're executing on personalization. So the great in class structure, maybe to the go away entirely, but it's really in the direction of personalization. We only have four. We're getting two more this year and I'll talk about who they are in a second."
Next, Cauthen announced all the school and district winners.
You'll want to see every minute of the award announcements; you are sure to know some of the teacher winners, and you'll enjoy seeing which schools and districts have achieved these coveted awards. If you are one of the winners, be sure and watch for an email from the Learning Counsel containing a press announcement you can use.
Login Required to watch Video