Heritage Relevant Digital Learning Design
Air Date: Nov. 10, 2021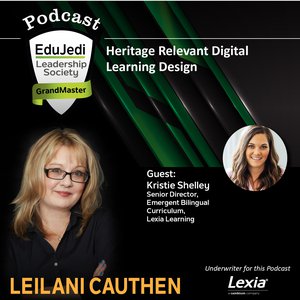 In this episode of the EduJedi Report podcast, Host and Learning Counsel CEO LeiLani Cauthen talks with Kristie Shelley, Senior Director of Emergent Bilingual Curriculum at Lexia Learning about digital learning design that is heritage-relevant.  
Lexia English is a K-6 product that helps promote bilingualism or multilingualism. From day one, they approached the program with an asset model, which makes it unique, seeking to honor learners first and foremost. Studies indicate that teachers talk 80 percent of the time in the classroom. Lexia flipped the model because the only way to learn a language is to actually speak the language. In order to make this happen in an interactive atmosphere, they use a technology of the speech recognition engine. And to make the learner comfortable, Lexia allowed characters to use familiar accents, yet encouraged the learner to use Academic English, which showed in their writing and reading. 
The unique Lexia English program is finding huge success while removing the burden from disappearing numbers of ESL teachers, and the professional grade Ui/UX design is blowing the doors off competitors' offerings. 
External Link