High-Dosage Tutoring is an evidence-based solution for helping students make significant, accelerated learning gains.
The program marries the core strengths of The Princeton Review® and Tutor.com. It features best-in-class, standards-aligned curricula as well as formative and summative assessments from the education services giant, along with proven instructional methodology honed over 25 million sessions.
Launched in June 2023 to help K–12 schools address pandemic-related learning losses in Algebra, this High-Dosage Tutoring program is based on data-informed design principles from researchers at Brown University's Annenberg Institute. Hallmarks include:
3+ times/week frequency: Tutoring has been shown to be maximally effective when delivered intensively.
Small-group instruction: Groups of 2–4 students allow for personalized, scalable, cost-effective support.
Assessment-based learning: Ongoing assessments enable tutors to tailor instruction.
Curriculum-driven materials: High-quality curricula reinforce in-school learning.
Consistent, relational learning: Longstanding tutor–student relationships accelerate learning and promote individualized instruction.
Teacher support: A dedicated Teacher Dashboard enables educators to chart students' learning gains in real time.
The program can be customized to align with a district's Algebra curriculum and help students catch up with critical prerequisite knowledge.
High-Dosage Tutoring is part of a Multi-Tiered System of Support (MTSS) for providing effective, equitable, scalable support for all students.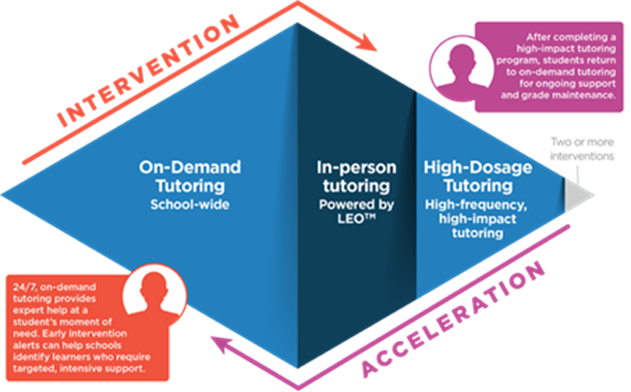 Formats/platforms used:
High-Dosage Tutoring is delivered online in The Princeton Review and Tutor.com's updated proprietary online classroom within the award-winning LEO™ (Learner Engagements Online™) platform.

Primary website's URL:
https://www.tutor.com/high-dosage-tutoring

Problem solved:
Since the pandemic, students have experienced math learning loss not seen in two decades. According to the NAEP Report Card, the average eighth-grade mathematics score was "lower than all previous assessment years going back to 2003."
Within math, Algebra looms large as a gateway subject that prepares students to tackle advanced study in calculus, physics, and other areas. Algebra presents significant challenges as well as major opportunities for students to attain academic and professional success. Without a solid understanding of Algebra, students often find that they get stuck in their math studies.
In 2022, utilization of Tutor.com's on-demand Algebra tutoring reached an all-time high of nearly 100,000 K–12 sessions, more than double the number from the previous year. Not only were students pursuing help at higher rates than ever before, but they were also engaging in longer and more frequent sessions than in previous years. In 2022, the number of long Algebra sessions (defined as being 75% longer than average) more than doubled.
As part of a Multi-Tiered System of Support with on-demand tutoring, High-Dosage Tutoring provides a way for K–12 schools and districts to help students close knowledge gaps and make significant, accelerated learning gains.

Grade/age range:
This fall, middle and high schools can adopt High-Dosage Tutoring to provide for their Algebra students during the school day.
(Additional subjects and grade levels will be available in the coming months.)

Core or supplemental:
High-Dosage Tutoring addresses core subject matter competencies with an evidence-based impactful solution designed to help K–12 schools and districts accelerate learning for at-risk students and close achievement gaps.

Subject/topic:
The High-Dosage Tutoring program utilizes the curriculum of choice for each K–12 school. The Princeton Review offers curricula and instructional materials from The Academy. All instruction supports classroom learning and is standards-aligned. Ongoing formative assessments allow tutors to tailor their instruction to ensure that students get the targeted prerequisite and curricular support they need to make significant learning gains.

Lesson time needed:
High-Dosage Tutoring program sessions are 30 to 45 minutes long and are conducted for small groups of 2–4 students at least 3 times per week, during the school day, for a minimum of 36 sessions per group.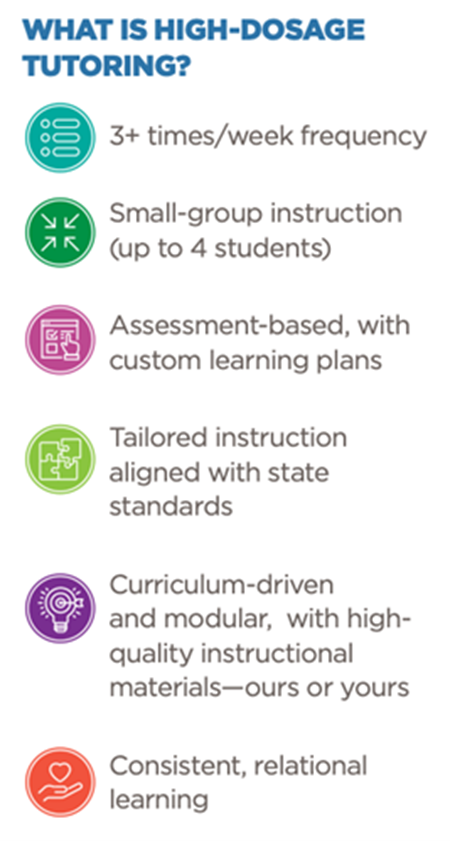 Pricing model:
The goal is to make High-Dosage Tutoring available for every student who needs it, and they have priced the program to be as accessible as possible for schools and districts. Pricing varies based on duration of sessions, number of sessions in the program, number of participating schools, and other variables.

Additional services needed:
In addition to High-Dosage Tutoring, the LEO platform includes a wide range of academic support offerings that schools may choose to adopt, including 24/7, one-to-one, on-demand tutoring in 200+ subjects, along with test prep from The Princeton Review, practice quizzes, video lessons, worksheets, and other resources.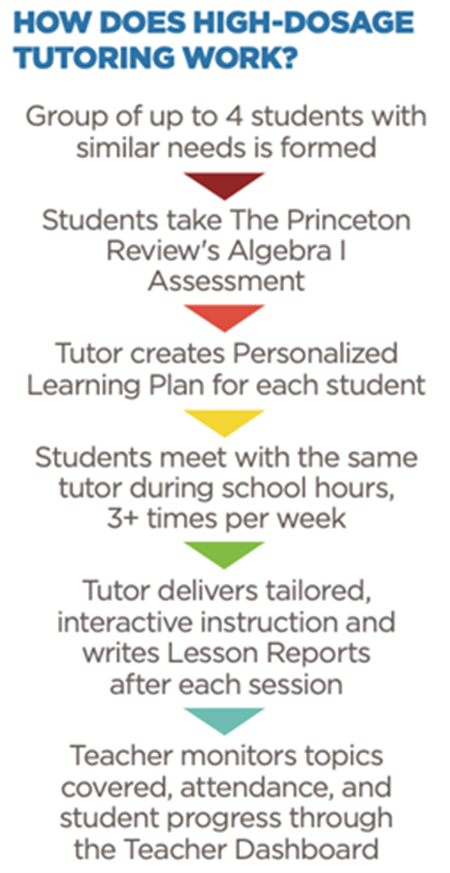 What makes High-Dosage Tutoring unique?
The High-Dosage Tutoring program combines the core strengths of an education services giant and one of the world's largest and most innovative online tutoring organizations. The Princeton Review and Tutor.com have a combined 65-year track record of helping students achieve academic success. The program leverages The Princeton Review's curated lessons, books, drills, and practice tests as well as Tutor.com's proven student engagement strategies and tutoring methodology that has helped learners succeed over the course of nearly 25 million sessions.
The High-Dosage Tutoring program uses the GEMS instructional approach to provide highly effective and high-quality tutoring sessions. GEMS is an acronym for:
G – Growing comprehension and independence via the program's content and strategies.
E – Engaging students in the learning.
M – Managing a session effectively to optimize students' learning within the time parameters.
S – Strategizing appropriately so that students receive what they need when they need it.
High-Dosage Tutoring serves as part of a Multi-Tiered System of Support. High-Dosage Tutoring complements other interventions that K–12 schools and districts adopt to provide effective, equitable, scalable support for students.
The program supports teachers' classroom efforts. High-Dosage Tutoring delivers instructional strategies that can be challenging to implement in large classrooms. The program also keeps teachers informed about students' needs and progress; teachers can review students' Personalized Learning Plans and track ongoing progress in the dedicated Teacher Dashboard.

Characteristics:
High-Dosage Tutoring is delivered via the LEO academic support platform, which was purpose-built from the ground up by a team of Tutor.com online learning experts, educators, education leaders, and web developers, with key input from institutional partners. The newly updated proprietary online classroom includes a range of features, including graph paper and Desmos® graphing calculator, drawing tools, highlighting, emoji, SnapAttach, and other features.
Institutions can customize the support services available for their learners on LEO, with options including:
Drop-off writing and math review services
Teacher-referred tutoring
Peer-to-peer learning in Meeting Spaces, a dedicated virtual study-group classroom
Academic advising
Self-paced test prep from The Princeton Review
…and more

Here's what users are saying:
"Huntington Beach Union High School District values the partnership we have with Tutor.com for many reasons. First, they offer bilingual English, Spanish, Vietnamese, Mandarin, and French tutors which helps level the playing field for our English learners. Tutor.com also runs analytics that provide insights into how students are using the tool, in which subject areas students are struggling, and during what times of the day or night our students are logging in.
The customer service Tutor.com provides is outstanding, and they are always willing to visit our school campuses, talk to our teachers/administrators/families, and present at Professional Development workshops. Additionally, having 24/7 free tutoring services for all our students promotes equity and accessibility because, for many of our parents, paying for a tutor is not fiscally possible."
— Melissa Chan-Nauli, EdD
Special Programs Administrator, College & Career
Huntington Beach Union High School District
"The tutors are extremely helpful, and the quality of instruction is high. Full transcripts of tutoring sessions are available for review, and tutoring session show respectful exchanges between students and tutors, thoughtful prompting by the tutor, and successful resolutions to the questions that students pose."
"The reports are so useful that we have suggested other vendors look to Tutor.com reports as a model for data communication."
—Erin McGrath, Assistant Director of College Access & PK12 Outreach and Former GEAR UP Program Director
"Our students were able to access tutoring—true tutoring, true homework help—during a time when they could not access a teacher because it was 24 hours."
"Tutor.com gives us the opportunity to keep our teachers at grade level, but address the student missing gaps through intentional tutoring during the day."
—Edith Navarro, Instruction & Professional Learning Administrator, Fresno Unified School District
(watch the full video here)
"AMAZINGGG TUTOR who's patient and breaks down problems without hesitation: She's also an amazing motivator."
—Middle school algebra student